Trump Cabinet member Wilbur Ross calls Syria strike a form of "after-dinner entertainment"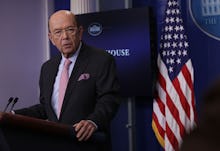 Secretary of Commerce Wilbur Ross opened up about the real reason President Donald Trump ordered an airstrike on a Syrian air base last month, speculating that the decision had amounted to a form of "entertainment" designed to impress Chinese President Xi Jinping.
Ross, a member of Trump's Cabinet who was present at Mar-a-Lago on April 6 when the president authorized the deployment of 59 Tomahawk missiles against Bashar Assad's military forces, said that the timing of the show of military aggression had not been a coincidence.
"Just as dessert was being served, the president explained to Mr. Xi he had something he wanted to tell him, which was the launching of 59 missiles into Syria," Ross said during the Milken Institute's Global Conference in California on Monday, according to Variety. "It was in lieu of after-dinner entertainment," 
"The thing was, it didn't cost the President anything to have that entertainment," he added as the crowd laughed.
The strike had, ostensibly, been a retaliatory measure after a chemical weapons attack believed to have been launched by the Syrian government, at the behest of Assad. The attack killed at least 70 civilians, with children and infants among them.
At a White House press conference following reports of the attack, Trump condemned the Syrian government for using banned chemical weapons.
"Yesterday's chemical attack, a chemical attack that was so horrific in Syria against innocent people, including women, small children and even beautiful little babies, their deaths were an affront to humanity," Trump said at the time.
"These heinous actions by the Assad regime cannot be tolerated," Trump said. "The United States stands with our allies across the globe to condemn this horrific attack and all other horrific attacks, for that matter."