'Zelda: Breath of the Wild' DLC Pack 1: 'Master of Trials' details revealed — still no release date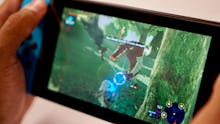 The Legend of Zelda: Breath of the Wild quickly became a smash success for Nintendo's latest console. Its emphasis on exploration and adventuring, with gorgeous vistas and challenging dungeons, has captured the imaginations of longtime Zelda fans and brand-new players alike. But if you've already blown through the game, we've got some exciting news about the upcoming Breath of the Wild DLC Pack 1 release.
Late Monday night, Nintendo officially announced the first downloadable content expansion pack for Breath of the Wild, entitled The Legend of Zelda: Breath of the Wild – The Master Trials, with details on what's included and when to expect it.
Zelda: Breath of the Wild DLC Pack 1: What you get in The Master Trials expansion
Breath of the Wild's first "expansion pass" has a number of goodies in store that Nintendo promises will make "this massive game even bigger and more engrossing." Included in the first expansion is a new difficulty, a way to track progress as you explore Hyrule, a new trial, shiny treasure and some much needed new equipment.
If you've been craving a way to make Breath of the Wild that much more difficult, The Master Trials DLC is also introducing a Hard mode. Just don't let that horde of Bokoblins eat Link's face.
"In Hard Mode, enemies gradually regain health, so take them out as quickly as possible. All enemies are also powered up by one level. For example, Red Bokoblins in Normal mode are now Blue Bokoblins. Enemies can also have higher maximum levels than they would in Normal mode. Look up, and you may also find enemies and treasure chests in the sky!"
The "Trial of the Sword," located in the "Cave of Trials Challenge" in the base Breath of the Wild game, will allow players to defeat waves of enemies. If there's one thing that Link always needs more of, it's testing his mettle in battle. If you're successful in helping Link navigate his way through the trial, one of the game's most coveted items awaits you. 
"When you get to a certain sacred location, you can take on the new "Trial of the Sword" challenge. Face an onslaught of enemies, one wave after another. Link starts the challenge without any equipment or weapons. When all the enemies in a room are defeated, Link proceeds to the next. Clear all the trials (about 45 rooms in total), and the true power of the Master Sword will be awakened, and it will always be in its glowing powered-up state while usable."
I don't know about you, but I often find myself lost in sprawling open-world games. I'll explore a thing and then forget where I've been (or where I was heading to begin with). Nintendo is offering a balm for that headache in the form of "Hero's Path Mode."
"This new map feature shows the path Link has walked through Hyrule from the last 200 hours of gameplay. Use the time tracker bar to see where you've spent the most time and where you have yet to explore. There's bound to be more adventures and maybe a shrine or two on the road less traveled."
I love fast travel in games. It's what keeps me sane when I get lost. The Master Trials has something special in store for players like me, but you'll still have to find it in Hyrule. The Travel Medallion is available in a treasure chest somewhere in the sprawling world. Might be worth the search, though.
"Somewhere in the world, there is a chest with a Travel Medallion inside. When you use this, you can register your current location as a fast travel point on the map. You can only register one location using the Travel Medallion."
Finding Koroks stumping you? Slip on a mask. The new Korok mask will allow players to more easily locate the forest spirits by shaking when one is nearby.
And, of course, what's DLC without new equipment to build out your inventory? But these eight new pieces of equipment aren't Breath of the Wild specific. That includes outfits based on some fan favorites, including Midna, Tingle, Phantom and Majora's Mask.
Breath of the Wild Zelda: Breath of the Wild DLC Pack 1: The Master Trials release date and price
The Master Trials DLC will available for purchase for $19.99 in the summer, with no specific date or time provided by Nintendo. The second DLC has been announced for release later this year, right in time for the holidays. 
Check out more Zelda: Breath of the Wild news and coverage
Find out all there is to know about Zelda: Breath of the Wild, including our running list of all the people of color in Hyrule. Learn how to preserve your items, how to beat bosses like the Stone Talus and Lynel, the best recipes for Link and how to take on the game's shrines. If you're looking to snag a giant horse with little stamina, here's how to do it. You'll also want to find out where all the great fairies are in the game, how to use amiibo with your version of Zelda and what went into making Breath of the Wild.