Black students at American University taunted with bananas hanging from noose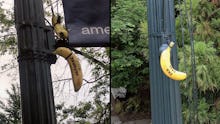 American University is in the middle of another racist controversy. University officials are investigating an incident where bananas were found hanging from nooses in various campus locations. The initials of Alpha Kappa Alpha, a historically black sorority, were written on some of the bananas, while another had "Harambe Bait" — a reference to the gorilla killed at the Cincinnati Zoo in May 2016 — scrawled on its peel.
The bananas were found in three areas: a bus stop, a dining hall and an undergraduate co-ed residence hall. Here are photos of the bananas found on campus:
American University President Neil Kerwin released a statement condemning the incident and promising to hold a meeting with the campus community on Tuesday. 
"While this incident targeted AU's chapter of Alpha Kappa Alpha Sorority, Inc., and occurred after the first black woman and AKA member was sworn in as the student government president, our entire university community has been adversely affected by this cowardly, despicable act," Kerwin said in the statement.
Kerwin was referring to newly sworn-in student government president and AKA member Taylor Dumpson. 
"This is exactly why we need to do more than just have conversations, but move in a direction towards more tangible solutions to prevent incidents like these from occurring in the future," Dumpson wrote in a statement. "This is not what I imagined my first letter to you all would be. In my first message to the student body, I would have wanted to talk about accountability, transparency, accessibility and inclusivity. Now more than ever, we need to make sure that members of our community feel welcomed and, above all, safe on this campus."
Over the the last two years, the Washington, D.C., university has faced multiple racist incidents targeting black and Muslim students on campus. In October 2015, blatantly anti-black racist messages — some blaming black students for Ebola and telling them to "go back to Africa" — were posted on the university's Yik Yak channel. 
One month later, posters from the David Horowitz Freedom Center — a designated anti-Muslim hate group — with messages like "stop the Jihad" were put up all over campus. In September, two white male freshmen allegedly threw a banana at a black female student.