Trump just called for a "good" government shutdown. Here's what that would look like.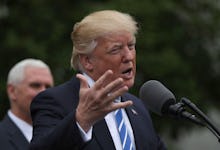 President Donald Trump — angry that Democrats came out the winners of the upcoming government funding bills — called for a government shutdown on Tuesday.
"The reason for the plan negotiated between the Republicans and Democrats is that we need 60 votes in the Senate, which are not there!" Trump tweeted. "We either elect more Republican senators in 2018 or change the rules now to 51%. Our country needs a good 'shutdown' in September to fix mess!"
Trump's call for a shutdown is at odds with other members of his administration, including budget director Mick Mulvaney, who told Fox News, "Shutdown is not a desired end."
"It's not a tool," he said. "It's not something that we want to have."
The fact is that government shutdowns have a vast negative impact on millions of Americans.
Here's who would suffer the worst if Trump gets his way.
Veterans and the military
When the government is shut down, veterans' disability claims are not processed, a huge blow to veterans who are already impacted by massive backlogs in claims.
In the 2013 government shutdown, lawmakers were forced to pass a bill to ensure military personnel would get paid while the government was closed. In the event of another shutdown, lawmakers would have to take the same steps to protect payments to active service members. 
Federal employees
Federal employees don't get paid when the government's lights are out. 
Essential employees, such as some Justice Department employees like judges and prison guards, must go to work. But they don't receive their paychecks until the government reopens, something that could impact federal employees living paycheck to paycheck.
Travelers
Family vacations to places like the Grand Canyon and Yellowstone National Park could be ruined, as national parks shutter when the government is not open. 
Taxpayers
If you are expecting a tax refund, you won't receive it when the government is shut down. The 2013 government shutdown delayed tax returns for the 2014 tax season.
The U.S. economy
The most sweeping problem caused by a shutdown is the economic impact. 
The 2013 shutdown inflicted a $24 billion loss on the U.S. economy, according to Standard & Poor's. That would be a huge loss for Trump, who's promised economic prosperity under his stewardship, and so far seen little.