Agency discouraged former Fox News contributor Tamara Holder from reporting sexual assault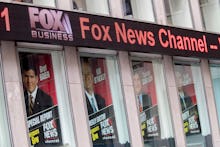 Former Fox News contributor Tamara Holder says her talent agency urged her to keep quiet after former Fox News Latino vice president Francisco Cortes allegedly sexually assaulted her in 2015, according to a report.
Holder told HuffPost that agents at ICM — whose clients include Wolf Blitzer, Jon Stewart and Chris Rock, among others — discourage her from reporting to Fox News that Cortes attempted to force her to perform oral sex in February 2015. When she later decided to file a claim anyway, Holder said the high profile talent agency effectively deserted her, ignoring requests from her attorneys to corroborate her story.
"I believed that my agents' job was not only to help me find work but also to protect me," Holder told the out. "Instead, they told me my career was going to be over if I disclosed my abuse to my employer, slammed the door in my face when I went against their advice to remain silent, and intentionally refused to assist my lawyers."
ICM told HuffPost that it was investigating the allegation. According to the outlet, Holder's lead agent was Steve Levine and agents Matt Sorger and Will Horowitz handled her day-to-day representation. None of them have commented on Holder's allegation that they silenced her.
Holder says Levine told her she should not report Cortes to Fox News "if you want a career." Emails she provided to HuffPost show Levine telling her it was a "good position to take" after initially deciding not to come forward about the assault.
Holder, who reached a $2.5 million settlement with 21st Century Fox, Fox News' parent company, earlier in 2017, has been critical of the embattled news organization's apparent culture of misogyny and sexual misconduct. She tweeted Tuesday that she is "determined to expose everyone complicit in allowing the institutional abuse, and silencing, of women in the workplace." 
Holder, who is a lawyer, has also said she would provide legal representation for victims of workplace sexual abuse.  
Holder began at Fox News in 2010 and left the network after her contract expired on Jan. 1. In her time there, the left-leaning commentator created a digital show about legal issues in sports called Sports Court. She also appeared on Sean Hannity's show, where she was once told by Vice co-founder Gavin McInnes that women are less ambitious than men and that it was "nature's way of saying women should be at home with the kids — they're happier there."
"I hope that your viewers do not take you, sir, seriously," Holder told McInnes. "Your comments are absolutely deplorable."
In February 2015, Cortes allegedly invited Holder into his office, poured her a shot of tequila and — holding the door shut with one hand — used his other hand to push her mouth toward his exposed penis, the New York Times reports. 
She reported the incident to Fox News in October 2016 following the ouster of chairman Roger Ailes, a friend of Cortes, amid a sexual harassment scandal. The network fired Cortes and publicly acknowledged the alleged assault, saying in a statement that it had taken "decisive action" to resolve the matter. 
Though Holder said in a statement that she "appreciated" the network's prompt investigation and action, the Times reports that Holder was reticent to come forward not just because of warnings from her agents, but also because executives had "admonished" her for previous complaints. 
On Monday, she appeared to take a shot at Fox News co-president Bill Shine, who was the latest ouster in the network's ongoing sexual harassment disaster.
Hannity — whom Holder defended against a recent sexual harassment allegation — previously warned that the ousting of Shine would mean the "total end of [Fox News] as we know it."
In her interview with HuffPost, Holder said that the issue runs deeper than Fox News. 
"If we want real change, it isn't solely limited to rooting out people at Fox News," Holder said. "We must expose everyone who makes money off of Fox News and is complicit in allowing the institutional abuse and silencing of women in the workplace."