The GOP would gut protections for pre-existing conditions. That includes newborn babies.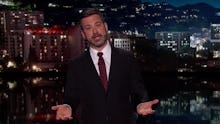 At the March for Life rally in Washington, D.C., Vice President Mike Pence declared that "life is winning again" in America. But the GOP's current health care proposal suggests the party is willing to deny health insurance to sick newborns.
Neonatal health issues came to the forefront of the national conversation Monday night when late-night talk show host Jimmy Kimmel delivered an emotional monologue about his newborn son.
Kimmel's son, William John Kimmel, was born at the end of April and required immediate open-heart surgery for a congenital heart disease. Kimmel's speech highlighted how the GOP's proposed health care changes could leave vulnerable newborns without the treatments they desperately need.
William was able to get the care he needed, although he'll require at least two more surgeries over his lifetime, Kimmel said. But Kimmel also pointed out how things might have turned out differently for William if he'd been born just a few years earlier, before the Affordable Care Act. 
"You know, before 2014, if you were born with congenital heart disease like my son was, there's a good chance you'd never be able to get health insurance, because you had a pre-existing condition," Kimmel said. 
If a child with William's condition were born to a family without insurance, they "may not even live long enough to get denied" for having a pre-existing condition, he added.
Obamacare ensures babies like William have guaranteed insurance coverage.
Signed into law by former President Barack Obama in 2010 — though its biggest features wouldn't go into effect until 2013 and 2014 — the ACA prevents insurance companies from denying coverage or charging higher premiums to individuals with pre-existing conditions. Before that, newborns like William could legally be denied insurance that would help pay for lifesaving medicine in their first days and weeks of life.
That's what happened to Houston Tracy, a baby born in 2010 in Texas. Hours after his birth, doctors diagnosed him with a potentially deadly heart condition. He needed surgery within the next few days, but Houston's parents, Doug and Kim Tracy, didn't have health insurance. They had individual policies for their two older children, but were initially denied when they applied for insurance for Houston.
It wasn't until their story went viral that the CEO of Blue Cross and Blue Shield personally called the Tracy family to assure them Houston would get coverage and his lifesaving surgery would be paid for.
The GOP's health care plan would deny sick babies guaranteed coverage.
Nowadays, the ACA would prevent a baby like Houston Tracy from being denied coverage at birth — yet Republicans have been promising for years to repeal the legislation. In fact, lawmakers are currently debating a Republican health care plan that would allow states to opt out of protections for people with pre-existing conditions. Gutting those protections could leave many of the most vulnerable, like newborns in need of emergency medical care, without guaranteed coverage.
The Republican health care legislation currently up for debate could, if passed, "absolutely" make coverage "completely unaffordable" for parents of babies with health issues like William John Kimmel, health policy consultant Sarah Goodell told Mic in a phone call Tuesday.
The amendment under debate could return to the United States to a pre-ACA landscape, Goodell said, where insurers get to determine what is and isn't a pre-existing condition. Everything from asthma to pregnancy might disqualify someone from coverage, according to Goodell — and for the 3% of U.S. babies born with birth defects each year, it could mean their "pre-existing condition" might disqualify them from health insurance.
The costly medical care that sick newborns can require, including surgery and stays in a neonatal intensive care unit, is "not something that the average family can afford," Goodell said. Without the ACA protections currently in place, families could be left in dire financial situations — or counting on hospitals to deal with the high costs of care.
And, as Kimmel said Monday night in what became an emotional plea for the ACA, "No parent should ever have to decide if they can afford to save their child's life. It just shouldn't happen, not here."