'Zelda: Breath of the Wild' Patch Notes: Update unlocks new audio options ahead of DLC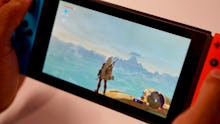 Legend of Zelda: Breath of the Wild saw a plethora of downloadable content details hit the internet on Monday night. Not only did we learn more about what's to come this summer and in holiday 2017, owners of the game also saw an update that they could download immediately. Unlike past updates of Zelda: Breath of the Wild, this patch had more to do with DLC. Along with specific mentions of what's to come in the expansion pass, the newest version of BotW finally lets players change the language of their audio.
Here's what you need to know about the patch notes from the latest Zelda: Breath of the Wild update.
Zelda: Breath of the Wild update patch notes: How to change the language of your game's audio
The newest update to Breath of the Wild finally allows you to change your game's audio language settings. Subtitles will appear in the same language you have your console set in. If it's in English, for example, you'll see cutscenes similar to what's shown above. The audio playing when we took this screenshot, however, was in Japanese. So while you'll be able to read English subtitles, you'll receive the full Japanese audio voice tracks. If you thought Zelda: Breath of the Wild had a Studio Ghibli feel before, just wait until you turn on the game's original language. 
Here's how to set this up:
On the game's start screen, select "Options" and choose "Voice Language" at the bottom. You'll have the choice of not just Japanese, but French (Canadian or French), German, Spanish (Spaniard or Latin American), Italian and Russian. You can change the settings whenever you want, though doing so will will dump you back out to the title screen.
This news is less exciting if you've already beat Breath of the Wild. But it makes a great excuse to replay the campaign before Zelda's DLC hits.
Check out more Zelda: Breath of the Wild news and coverage
Find out all there is to know about Zelda: Breath of the Wild, including our running list of all the people of color in Hyrule. Learn how to preserve your items, how to beat bosses like the Stone Talus and Lynel, the best recipes for Link and how to take on the game's shrines. If you're looking to snag a giant horse with little stamina, here's how to do it. You'll also want to find out where all the great fairies are in the game, how to use amiibo with your version of Zelda and what went into making Breath of the Wild.