American Airlines flight attendants called Muslim co-worker a terrorist, now he's suing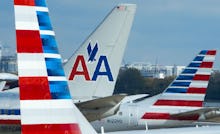 A Muslim-American flight attendant filed a lawsuit against American Airlines citing discrimination and harassment.
Farkhan Mahmood Shah, a Pakistani-American, alleges that his co-workers called him a terrorist and said that he was a member of the Taliban or Hezbollah. One flight attendant also reportedly tried to convert him to the Christian faith.
According to NJ.com, American Airlines is currently investigating the lawsuit and said that the airline carrier "does not tolerate discrimination of any kind."
Shah has worked for American Airlines as a flight attendant since 1999. According to the lawsuit, his first report of harassment occurred in 2008. After reporting the harassment, Shah said he faced retaliation when he noticed incorrect marks on his attendance record for missing work or being late. In 2013, Shah brought up the false marks on his record and was told it would be fixed, but it never was.
According to Shah's complaint, one of his co-workers also allegedly said, "It was the Muslims and that Muslims are evil" during a conversation about the Sept. 11 attacks. According to the lawsuit, Shah responded to co-workers saying some people claimed 9/11 was an inside job and that the CIA created ISIS.
After making those remarks, Shah said in the lawsuit he was reported to supervisors and then placed on a watchlist by American Airlines several weeks later. The complaint also said FBI agents paid a visit to Shah's home in Edison, New Jersey. Shah also said that he was offered no resolution with his harassment case, and that he was referred to different human resources representatives.
According to NJ.com, Shah filed a complaint with the U.S. Equal Employment Opportunity Commission in 2016. Two weeks after filing his EEOC complaint, Shah's lawsuit claims that FBI agents visited him at his house once again to question if he had any plans to harm anyone.
Shah's lawsuit, filed to the Superior Court in Middlesex County, seeks damages, attorney fees and other relief funds.