May Day protesters apparently threw cans of Pepsi at police officers in Portland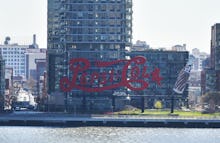 Tucked inside a report from the Oregonian on Monday's raucous May Day protests in Portland, Oregon, is a small nugget about how rally attendees allegedly hurled Pepsi cans at police — which was, you know, a reference to that horrible ad the soda company released last month.
The ad in question features reality TV star and model Kendall Jenner attending a "Black Lives Matter"-esque rally, where she hands one of the police officers clashing with protesters a Pepsi to diffuse the mounting tension. 
The example of life imitating art imitating life came during the same violent clashes with police that saw at least 25 people arrested, the Oregonian reported. In addition to the Pepsi cans, protesters also hurled Molotov cocktails, prompting authorities to quickly classify the gathering a riot.
May Day, or International Workers' Day, as it's also known, spurred protests in dozens of cities across the United States and the World on May 1. Traditionally a day dedicated to celebrations of the working class and labor rights, the day has taken on renewed meaning in recent years, with massive protests notably unfolding across U.S. cities in 2013 in the wake of the Occupy Wall Street movement.
But in 2017, workers took to the streets in the U.S. with a broad spectrum of concerns ranging from LGBTQ issues to immigrant's rights, many of them related to the policies of President Donald Trump. 
According to the Daily Beast, police canceled the Portland rally's permit around 4:30 p.m. and ordered attendees to disperse, but not before a few soda cans had been chucked. In a way, it's the perfect analogy for 2017 — the year U.S. politics and pop culture became inextricable in the worst way possible.