Baltimore Orioles star Adam Jones called a "nigger," has peanuts thrown by Red Sox fans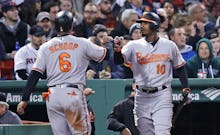 Baltimore Orioles center fielder Adam Jones had a bag of peanuts thrown at him by a Boston Red Sox fan Monday evening, during a game in which Jones was also allegedly called a "nigger" multiple times, USA Today reported.
"A disrespectful fan threw a bag of peanuts at me," Jones told USA Today, "I was called the N-word a handful of times tonight...
"I heard there was 59 or 60 ejections tonight in the ballpark. It's unfortunate that people need to resort to those type of epithets to degrade another human being. I'm trying to make a living for myself and for my family."
Red Sox officials told USA Today that a fan had indeed been ejected from Fenway Park for throwing a bag of peanuts at Jones, who is black. They added that the number of spectators ejected was likely half the 60 Jones estimated.
Jones is no stranger to racist incidents on the baseball field. In August 2013, a fan threw a banana in his direction after a game against the San Francisco Giants at AT&T Park. (The apparent culprit, Alexander Poulides, later came forward to apologize and insisted he'd thrown the fruit out of frustration, not racial animus.)
In October, Jones and his South Korean teammate Hyun Soo Kim had racial epithets and cans of beer hurled at them by fans during a game against the Toronto Blue Jays at Rogers Center.
"That is about as pathetic as it gets," Jones told reporters after the game, according to the Globe and Mail.
The variety of locations where these incidents took place suggests it's not geographically unique. Racial slurs used by fans targeting players happens across the baseball world, and across professional sports. This particular incident prompted apologies to Jones from both the Red Sox organization and Boston Mayor Marty Walsh.
"The Red Sox have zero tolerance for such inexcusable behavior, and our entire organization and our fans are sickened by the conduct of an ignorant few," the Red Sox said in a statement.
"This is unacceptable and not who we are as a city," Walsh added in another statement, Reuters reports. "These words and actions have no place in Fenway, Boston, or anywhere."