'Assassin's Creed Empire' Rumors: Next 'Assassin's Creed' game possibly a soft reboot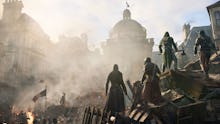 After taking a breather for 2016, the Assassin's Creed series is all set to come back this year with Assassin's Creed Empire. The worst kept secret in gaming hasn't been officially unveiled yet, but more and more information keeps trickling out about it.
Assassin's Creed Empire is a "soft reboot"
As reported by the Bit Bag, supposed industry insider shinobi602 called Assassin's Creed Empire a "soft reboot" on Twitter last week.
Shinobi602 has been right about leaks before, so while you should always take things like this with a grain or two of salt, it's not immediately worthy of dismissal. 
A soft reboot means Assassin's Creed Empire will take place in the same continuity as the previous games, but may not explicitly reference them. You shouldn't have to play any other games in the series to fully grasp the plot of the next game, in other words.
Assassin's Creed Empire supposedly takes place in ancient Egypt and seriously rethinks how the series operates. The initial leaks suggested more of a The Witcher 3 open-world RPG flavor. With the game rumored to be out later this year and E3 approaching next month, we'll probably find out more soon.
More gaming news, updates, tips and tricks
Check out the latest from Mic, including our deep dive into how female Overwatch players are dealing with online harassment, an article about a fan movement advocating for more same-sex romance options in Mass Effect, a personal essay about JonTron written by a fellow Iranian-American and an article looking at cultural diversity in Overwatch.