The "Who? Weekly" podcast rates the 2017 Met Gala's biggest red carpet "who's?"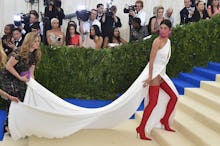 The Met Gala, known as the "Met Ball" to the misinformed, is the annual fundraiser for the Metropolitan Museum of Art's Costume Institute to which an exclusive list of famous people — most of whom are hand-picked by Vogue editor-in-chief Anna Wintour — pay tens of thousands of dollars to attend. 
But even though it's one of the most exclusive and well-photographed social events of the year, not everyone who walks its legendary red carpet may be recognizable to everyone — and that's not just because some are in outfits that could be described as "deranged" if worn literally anywhere else. 
So, who were those confusing faces scattered among A-listers like Rihanna, Nicki Minaj and Gwyneth Paltrow? The hosts of celebrity podcast Who? Weekly are here to help you find out.
Carly Steel
As she was literally the first person to step foot on the Met Gala's red carpet, we just had to know the name of this early bird in the glittering headpiece. Was Carly Steel so prompt because she had to work the event? Maybe. 
She joined the full-time staff of Entertainment Tonight as a correspondent in November. And she once interacted with Mariah Carey. On a yacht.
Riley Keough
Riley Keough, aka Lisa Marie Presley's daughter aka Elvis' eldest granddaughter, is the short version of this. The long version is she recently starred in the TV adaption of The Girlfriend Experience, which was very good, and played den mother in the also-good American Honey. 
Fun facts: Riley's dad is scientologist Danny Keough, and she once dated Ryan Cabrera. This one. Yep.
Grace Hartzel
Though some were convinced this young woman with the pale face and all-black ensemble was Coraline come to life, it was actually model Grace Hartzel. 
She's known for her obsession with anime, her love of anime and being inspired by anime.
The Winklevoss brothers
Long before they were both immortalized by Armie Hammer in the hit 2010 film The Social Network, Cameron and Tyler Winklevoss were just your typical twin brothers from Connecticut who sued Facebook founder Mark Zuckerberg for allegedly stealing their idea for a social media site. 
The twins eventually settled for $65 million, which they later used to purchase a whole lot of Bitcoin.  Bitcoins, by the way, are the preferred currency of Wholebrities.
Lily Aldridge
Even though she was in a fuschia veil and red boots — are those things technically boots? — that made her legs look like pieces of polished metal, we were able to recognize this gala attendee as Victoria's Secret Angel Lily Aldridge right off the bat. 
Oh, that's Lily Aldridge, we thought upon seeing her take on the Single Exposed Leg trend, surprising ourselves and — perhaps — even Lily.
Cassie
Poor Cassie Ventura. The singer and longtime girlfriend to P. Diddy can't even shine at the Met Gala without her boyfriend stealing the spotlight. 
Don't worry, Cassie, you're the star of this write-up: Cassie's a singer — remember "Me & U"? — and sometimes-model who appeared in both Step Up 2 and Honey 3.
Emily Ratajkowski
Can someone provide a trick for remembering how to say and spell model Emily Ratajkowski's last name? It's a toughy, and I have enough trouble with "McConaughey."
Lil Yachty
You may or may not know Lil Yachty from his iconic Target-sponsored cover of "It Takes Two" with Carly Rae Jepsen. He's also sometimes called "Lil Boat" or *boat emoji* and is known for what he calls "bubblegum trap." His first single "One Night" blew up because of a viral YouTube video called "When Bae Hits You With That 'So What Are We?'" *boat emoji*
Helen Lasichanh
Model and designer Helen Lasichanh — wife of singer-songwriter Pharrell — respected this year's Met Gala theme, something we should all respect in turn. She also did most of the work while her husband showed up in jeans. Jeans! Again, props to Helen.
Claire Foy
An actress who has played some very British roles, Claire Foy portrayed Anne Boleyn in BBC2's Wolf Hall before taking on a young Queen Elizabeth II in Netflix's The Crown. She's also British in real life, so what we're saying is she went method. From birth!
Presley Gerber
Though Presley Gerber is young and a Gerber and a model, he's not the baby you see on every single bottle of Gerber baby food. He's part of a completely different Gerber empire, if you can believe it. 
Presley's father is Rande Gerber, the husband of Cindy Crawford and business partner of George Clooney. Ever heard of Casamigos tequila? That's Gerber's, baby.
Haley Bennett
Earlier this year, people were worried Girl on the Train newcomer Haley Bennett would get confused for Jennifer Lawrence. They were mistaken. 
The two do look alike somewhat, as much as many blonde women often do, but did Jennifer Lawrence make her film debut as pop star Cora Corman in iconic 2007 film Music and Lyrics? No, she did not.
Dree Hemingway
Dree Hemingway's mother is Mariel Hemingway of Manhattan fame and scandal; her great-grandfather is writer Ernest Hemingway. She's a model and actress who appeared in While We're Young and, most recently, Love After Love. 
Dree is a relatively boring Hemingway considering her lineage, but if you want to really fall into a tragic k-hole, we recommend Googling "The Hemingway Curse."
Michele Lamy
Have you ever wondered what a "professional muse" looks like? Look no further than this photograph of septuagenarian Michele Lamy.
Rita Ora
Though Rita Ora's music and TV careers could be described as "flops" — remember "Body On Me" or as host of the first iteration of VH1's reboot of America's Next Top Model? — she's actually quite good at her most important day job. Which is, of course, being there.
No one in the business is better at being there than Rita, and she certainly put in a tremendous amount of effort to be at the Met Gala. Just look at her, being there in red! Being there in a bow! Being there in a wig! Can't wait to see where you'll be tomorrow, Rita! And the day after that! And after that!