'EA UFC 3' Release Date News: When should we expect more details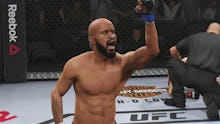 We know EA UFC 3 is coming, but we don't know much else about the upcoming Ultimate Fighting Championship game. However, we do have a few ideas based on upcoming UFC and gaming events where we might learn more about the new title.
EA UFC 3 release date to be announced at IFW 2017?
With International Fight Week scheduled for July 5-9, 2017 in Las Vegas, and with two UFC events planned from July 7-8, it might be a good time to drop a piece of information about the upcoming game.
The UFC has a doubleheader in store with The Ultimate Fighter 25 running on July 7 and the UFC 213 pay-per-view event on July 8.
The promotion also includes a fan expo with a number of crowd-friendly events. Here's how the lineup was described by MMA Junkie:
The week of events also includes an Ulti-man 5K run, open workouts, weigh-ins, live entertainment and an official kickoff block party, according to a release. Additionally, rather than a UFC Fan Expo, a "new, easily-accessible and fully interactive two-day UFC Fan Experience" is scheduled for T-Mobile Arena. Additionally, "UFC champions, top-ranked contenders, UFC Hall of Famers, celebrities, legendary fighters and octagon girls" will be available for autograph sessions and meet-and-greets, according to the release.
EA UFC 3 release date revealed at E3?
There's also a chance information on the game could come even sooner. The 2017 E3 gaming conference takes place June 13-15, but it might be smart for EA Sports to wait until International Fight Week to announce details on their game when it won't have to share the spotlight with hundreds of other upcoming titles.
Also, a healthy amount of focus will be on the UFC at that time, so any news will likely have a larger audience. All of the above possibilities would be slightly different than what we've seen with the past two releases in the series.
EA UFC 2 had a non-gameplay trailer hit in November 2015 before its March 2016 release and the release date wasn't revealed until January. A spring 2018 release seems likely for EA UFC 3, too.
At the earliest, we could see some information in the next month and a half, and at the latest, the first details may not surface for another 7 months.
More sports gaming news and updates
Love sports games? Check out more content from Mic, including tips for leveling up your NBA 2K17 MyPlayer, playing quarterback in Madden 17, our review of MLB The Show 17 and the classic Nintendo sports games we want to see on the Switch.