Feel like wildly uninformed men are trying to wreck your uterus? Watch this video.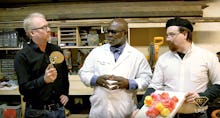 If ever we've needed to bust the myths around abortion, it's now.
Following the appointment of longtime anti-abortion activist Charmaine Yoest as assistant secretary of public affairs at the Department of Health and Human Services, the Lady Parts Justice League — an abortion rights advocacy group — has released a timely video to dispel some of the misinformation that Yoest has helped ship. 
Entitled "MythCrashers," the video parodies the Discovery Channel show in which hosts Adam Savage and Jaime Hyneman use special effects to explode myths and misconceptions. The LPJL spoof tackles the many myths surrounding abortion safety. 
"Here's the debate: Experts say that abortions are actually safer than having your wisdom teeth pulled, and safer than actual childbirth," one host says.
"On the flip side, people with no medical background, usually men, claim that abortion is a complicated and dangerous procedure, with many risks to one's health," the other adds.
The hosts call in Dr. Willie Parker, a renowned Christian OB/GYN and abortion provider, to settle the question. Parker patiently abides their proffered marshmallow-and-concrete vagina models and attempts at pyrotechnics to drop some useful knowledge. Medication abortions are actually "safer than viagra," he notes, adding that the vast majority of abortions require no scalpels at all. Typically, Parker explains, the whole thing takes "less than five minutes" and is "seven times safer than colonoscopy." 
Watch the full video here, unless the idea of some woefully uninformed white men running amok with women's reproductive health care (even in jest) hits a little too close to home for you.