Ivanka Trump came up with a misguided compromise for Planned Parenthood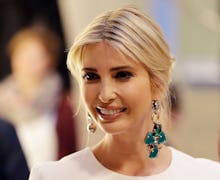 Ivanka Trump is trying to find some common ground on abortion rights — but it's not going so well. 
According to a New York Times profile published Tuesday on the first daughter, Trump took a shot at a compromise that could keep Republican legislators happy and help Planned Parenthood keep its federal funding.
When Trump met with Planned Parenthood president Cecile Richards in secret on the heels of her father's inauguration, she reportedly proposed the reproductive health organization "split in two," creating a smaller branch dedicated to providing abortions and a larger one solely responsible for women's health care. Trump echoed her father's ultimatum in March, when he told Planned Parenthood he would preserve its funding if the organization discontinued abortion services.
Planned Parenthood officials didn't take well to Trump's latest suggestion, calling her naive for overlooking how central abortion rights are to the organization's mission. Richards later slammed Trump for her complicity in her father's anti-choice agenda.
"Anyone who works in this White House is responsible for addressing why women are in the crosshairs of basically every single policy we've seen in this administration," Richards said in April. 
Dawn Laguens, executive vice president of the Planned Parenthood Federation of America, said when Trump and Richards met, it had been for the purpose of clearing up misconceptions about how the organization functions.
"The main thing that Cecile Richards was doing was explaining that the money doesn't actually go to abortions — we get reimbursed the same way a hospital does," Laguens said. "We were clearing up misinformation about how this works."
Trump's takeaway — the proposal that the organization divide its interests — only seemed to demonstrate a persistent misunderstanding of how Planned Parenthood gets its funding. 
For one, the Hyde Amendment has long made it illegal for federal dollars to go toward abortion. What's more, President Donald Trump's recent decision to allow states to withhold Title X funds, which go toward services like cancer screenings and well-woman exams, proves the GOP's problem isn't exclusively with funding women's health care — it's with funding, in any measure, an organization with a pro-abortion rights stance.
Another glaring point? Many people pointed out Ivanka Trump's proposal fundamentally misses the fact that access to abortion is a crucial part of women's health. 
Trump said the blunders are all part of navigating her new role in the White House. 
"I do believe that in time I'll get to the right place," Trump told the Times. "In the short run I'll have missteps, and, in some cases, I'll take shots that I could have avoided if I had publicly said what I think. I'm really, really trying to learn."