'Overwatch' actors for Sombra and Lúcio filmed their very charming, tipsy bar hangout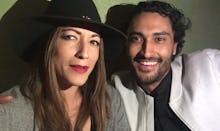 By now, you're probably already aware that the Overwatch voice actors Carolina Ravassa and Anjali Bhimani, who voice Sombra and Symmetra, are very, very cute friends in real life — but it appears someone else is joining the squad: Jonny Cruz, who voices Lúcio.
In a new video on Ravassa's YouTube channel, you can see Ravassa and Cruz hanging out at a bar together, debating whose character has the better "boop" voice line and trying to recite each other's dialogue from memory. Ravassa's first guess at Lúcio's ultimate voice line is, "Oh, let's get down in here!"
All the while, they're trying to stay classy and quiet in what is likely a pretty swanky New York City bar. Unsurprisingly, it's absurdly charming.
More Overwatch news and updates
For more on Overwatch, check out the rest of what Mic has to offer. Here is our Project Runway-style judging of every new Uprising skin, an unintentionally hilarious infographic showing the most popular Overwatch characters in each state, our definitive ranking of every Overwatch hero and a giant Overwatch FAQ for beginners.