When will 'The Handmaid's Tale' episode 4 be released on Hulu?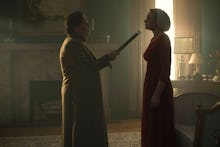 Can't wait to reenter the terrifying, all-too-real dystopia otherwise known as Hulu's The Handmaid's Tale?  Wondering why there were only three episodes released, rather than all dropped at once like certain shows on Netflix? Don't stage a revolution just yet — now that Hulu's captivated its viewers, it plans on releasing one new episode every week on Wednesday nights at 12 a.m. Eastern. So for those who like to weep over one possible future of America in the middle of the night, Hulu's the place.
Sure, it's annoying to have to wait a week in-between episodes, but for such an epic series, it might be a good thing, especially considering it's only 10 episodes long. 
For anyone who has yet to experience this adaptation of Margaret Atwood's renowned 1985 novel, here's a brief overview of the story so far. 
Offred is a woman living as a handmaid under the Republic of Gilead — the totalitarian regime that replaced what was once a democratic America. As a handmaid, she is the property of a wealthy family who keep her because she is one of the few remaining fertile women, and might be able to help them have a child. Poor women who aren't fertile are basically slaves used to clean up the toxic waste that blankets part of the country, which, needless to say, cuts their lives short.
As the story unfolds, it's clear Offred's patience with being oppressed is growing thin. At the same time, she learns her walking partner, Ofglen, is a member of the resistance, and asks her to provide information on the commander for whom she works (aka tries to produce offspring). Ofglen is also a lesbian, or gender traitor as is the Gilead term, and this gets her into serious trouble in the third episode of the series. 
It's unclear how Offred will continue moving towards the resistance now that her one and only connection to them has been removed, which is why episode four couldn't premiere fast enough. Based on Atwood's novel, however, she will keep fighting for her life and against injustice, and thus, teaming up with the resistance sooner rather than later seems inevitable.
Mic has ongoing The Handmaid's Tale coverage. Check out our main The Handmaid's Tale hub here.