Congress to rent Secret Service space at Trump Tower as part of security spending bill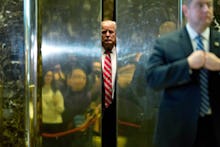 Later this week, Congress is expected to approve a spending measure that will provide $120 million to protect President Donald Trump and his family — a hefty expenditure that reportedly includes money for the Secret Service to rent space at Trump Tower.
According to the New York Times, an additional $23 million is earmarked for the costs of outfitting Trump Tower, the office and residential building owned by the president, with "the necessary equipment and personnel, as well as to rent space inside the building for agency personnel."
About half of the $120 million will be allocated toward the cost of protecting Trump on his frequent travels and additional security for first lady Melania Trump, who continues to live in Trump Tower with the couple's son, Baron. 
The other $60 million will reimburse localities like New York City and Florida's Palm Beach County in "recognition of the extraordinary costs borne by a small number of jurisdictions in which a residence of the president is located," according to the legislation as reported by the Times.
"We are getting what we are owed," New York Mayor Bill de Blasio said in a statement. "That's good news for our city and the hardworking police officers faced with this unprecedented security challenge."
Profiting off the presidency?
The cost of protecting the Trump family — including on a recent ski trip taken by assistant to the president Ivanka Trump and senior adviser Jared Kushner, Trump's daughter and son-in-law, during which the government dropped nearly $7,000 on "multi-day ski passes" — has been a subject of scrutiny among critics of the administration.
The cash Congress is devoting to renting Secret Service space in Trump Tower also fans the flames of concern that Trump is profiting off the presidency.
After the Department of Defense announced in February it was seeking to acquire "a limited amount of leased space in Trump Tower," critics argued such an arrangement "creates the appearance that President Trump, through his businesses, may directly benefit financially from charging the Department of Defense to do its job." 
"There is a growing list of interactions here between the president's business interests and the government, and that's troubling," Meredith McGehee, chief of policy, programs and strategy at the nonprofit Issue One, told NPR. 
While former Vice President Joe Biden rented out a cabin on his Delaware property to the Secret Service, space at Trump Tower is significantly more expensive, NPR reported — and is one of many instances in which the president appears to be benefitting financially from office. 
On Monday, it was reported Trump's 2020 re-election campaign, currently staffed with a mere 20 employees, paid $274,000 for space in Trump Tower during the first three months of 2017. That's roughly $91,000 in monthly rent and an average of $4,567 per person — compared to the $1,012 paid per staffer in rent during last fall's campaign, according to the Huffington Post.
"We haven't had a president who tried to profit from the presidency while he was president," Robert Weissman, president of Public Citizen, an advocacy group opposing corporate influence in politics, told HuffPost. "The campaign, the presidency, the next campaign, they're all self-enrichment opportunities. Does he understand that this is wrong?"
Trump criticized for security costs
The spending agreement has garnered bipartisan support as a necessary measure to protect the president and provide relief to local police departments that have footed "extraordinary" costs to do so, the Times reported. 
But some — including Senate Minority Leader Chuck Schumer — have criticized the unusually high cost of Trump's security detail. 
Florida Rep. Ted Deutch, a Democrat who represents parts of Palm Beach County, the home of Trump's Mar-a-Lago resort, said the reimbursement was an "important first step" and one that should spur a conversation about Trump's security costs.
"This is an important step," Deutch told the Times. "But now and by the end of the funding bill, we have to have a discussion about whether it is appropriate for the president to bill the taxpayers for trips to his private club."