South Korea Presidential Election: Key players to watch ahead of Tuesday's vote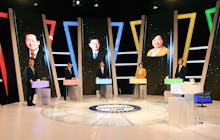 It's a tense time in South Korea.
On May 9, the country will vote to elect a new leader nearly two months after its embattled former President, Park Geun-hye, was removed from power in March over mounting corruption allegations, served as the country's first female president, and was also its first president to face impeachment.
Park's replacement will have their work cut out for them. Not only will the new president be left to pick up the pieces from the splintered administration that preceded them, but they'll also be tasked with cooling tensions with an increasingly belligerent North Korea. 
With Park's conservative party appearing to be out of favor in the upcoming vote, here's what to know about the election's key players. How is each candidate promising to handle the increasing frequency of nuclear threats coming from the Hermit Kingdom to the north?
Moon Jae-in: The frontrunner
As May 9 approaches, all eyes are on Moon Jae-in, the heavy favorite to win South Korea's presidency.
A recent survey found that Moon — a 64-year-old civil-rights lawyer, former legislator and onetime presidential chief of staff — was polling at 41% approval. A liberal candidate, he has vowed to exercise diplomacy in order to bring the world back from the bring of full-on nuclear war with North Korea.
"If the north continues with its nuclear provocations, it's natural that South Korea and the U.S. will impose stronger sanctions against North Korea," Moon told Time in an interview. "But we need deft crisis management skills to ensure that rising tensions do not lead to war."
His strategy on unilateral action in the region is clear.
"Any decision by the U.S. should be made in close consultation with South Korea, its ally," he told Time.
Ahn Cheol-soo: The dark horse
Initially a dark horse candidate, Ahn has surged in the polls in just a few short weeks, currently polling at a competitive 30% approval. 
Ahn, a former software tycoon, told HuffPost in an interview that there is no doubt that we are "facing a serious crisis" when it comes to North Korea.
"How do we resolve this crisis? We need serious discussion in South Korea and we must engage North Korea," he said. "We need to both make our own efforts for resolution as self-confident nations, convince the other major nations of the value of our approach and ask for their understanding."
The centrist and founder of the People's Party is also an alumnus of the Wharton School of the University of Pennsylvania, and has said that, if elected, he plans to use the connection to network with another politician who claims the school as his alma mater: United States President Donald Trump.
Hong Joon-pyo: The longshot 
Hong Joon-pyo, the most conservative of the serious contenders in the South Korean election, has caused a stir in the past with his social politics, including a claim that he would "crack down" on homosexuality, which he said he believes spreads AIDS. 
"If I am elected, the first thing I will do is to propose a summit meeting with President Trump on board the Carl Vinson," Hong said earlier this week according to the New York Times, referring to the U.S. naval carrier.
According to the Times, a growing number of voices began calling for Hong to quit the presidential race after a passage was unearthed from his 2005 memoir that describes an apparent attempt at date rape while he was in college.
"He said the drug did not work," Hong wrote of his college roommate, who had allegedly mixed an "aphrodisiac" into a woman's beer. "She woke up and put up strong resistance, biting and scratching him in the face."
Hong, facing backlash, later hedged on the passage, saying that he had merely "overheard" the story from a friend.