'Affinity' magazine retracts "White people age like bananas" insult about Olsen twins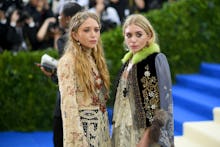 How rude. 
On Monday, Affinity magazine issued an apology after tweeting a picture of Mary-Kate and Ashley Olsen next to Nicki Minaj at the Met Gala and commenting on the Olsen twins' appearance. 
"Nicki Minaj is 34 and the Olsen twins are 30," the tweet read. "White people age like bananas." 
The tweet was deleted, though screenshots circulated online. People were not happy with the magazine's characterization of the twins, who have lived through emotional and physical health issues in the past.
Since the initial tweet, Affinity has apologized. 
"We apologize for this tweet. it was in poor taste and the humor was very tacky," the magazine wrote. "Our intent was not to mock people who suffer from eating disorders or drug abuse. It was simply to highlight how different people age."
However, some readers were not satisfied with the apology, either, which went live before Affinity deleted the tweet. 
However, not everyone bashing Affinity was standing up for the Olsen twins. Some people claimed the tweet discriminated against white people and took time to bash Nicki Minaj's looks, as well. 
Minaj may be no stranger to being spoken about negatively on the internet, but if there's one lesson this debacle can teach everyone, it's that there's no reason to bash another woman, or women, to compliment another one.