Meet Suzie Yang, the latest addition to the American Girl Doll family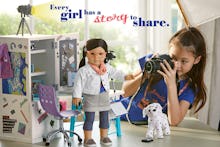 American Girl has rolled out the latest addition to its family: Suzie Yang, a Korean American vlogger and filmmaker. 
Yang is the brand's first Asian-American doll since 2014, when American Girl made the controversial decision to "archive" Ivy Ling, a Chinese-American girl from San Francisco. Also archived was Cecile Ray, an African-American girl living in New Orleans.
Yeah, yikes.
In any case, American Girl has begun to take measured steps toward diversity again. In 2016, American Girl introduced Melody Ellison, an African-American doll, as part of its "BeForever" collection of historical dolls. 
A Native Hawaiian doll named Nanea Mitchell will join Suzie and Melody later this year, Fusion reported.
According to Suzie's bio, she's "an imaginative filmmaker developing [her] own take on the world around [her]." She's already recorded some of her own stop-motion videos as well as a few tutorials about how to shoot your own.
She just may be the antidote to Logan Everett, the brand's first boy doll and universally-agreed-upon fuckboy.