Your next Ikea furniture might be scarily smart — the company wants to experiment with AI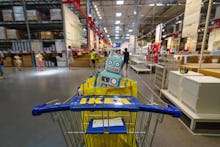 As you fumble for the stray screw to piece together your MALM bed, a motherly voice coos from the couch — "that's a bolt not a screw, idiot."
In the future, an Ikea virtual assistant may one day insult your furniture-building skills. It may be male, female or gender neutral. It may be religious, and it might share your worldview. Or maybe not. It could collect a wealth of data about you to learn and adapt to your daily needs. Or maybe not.
SPACE10, an external innovation hub for Ikea, is asking the public to take its survey Do You Speak Human? which asks respondents questions pertaining to their dream future AI assistant.
The survey asked some standard questions such as: Do you prefer a humanlike or robotic AI? Male, female or gender neutral? Motherly and protective, autonomous and challenging, or obedient and assisting? It also asks whether you want your AI to reflect your values and worldview, detect and react to your emotions, prevent you from making mistakes, collect your data and fulfill your needs before you ask. It also asks respondents whether they want a religious AI.
"What does a Swedish furniture retailer know about AI and conversational technology?" Göran Nilsson, Ikea concept innovation manager of Inter Ikea Systems said in a press release. 
"Not much, but we know AI is coming and we know there are tremendous opportunities in this area to create a better service for people around the world. IKEA could accommodate people's individual needs as well as empower the 285 million people who are visually impaired using AI and conversational interfaces. We are curious to hear from the many people how they feel about AI."
It's refreshing to see the research and development lab acknowledge that a company known for its relationship-destroying furniture assembly may not be poised to swoop into the artificial intelligence industry with ease. In the press release, SPACE10 indicates that this survey is simply "playful research" to learn more about what users may want in their future AI assistant in order to better explore the area.
But it doesn't require much imagination to envision how an Ikea virtual assistant might infiltrate your life. I mean, the possibilities are seemingly endless — Ikea 9000 shouting from your couch to go for a run, from your nightstand to wake the hell up, from your cabinet to fold your laundry, from your lamp to remind you to turn the lights off before you leave, from your planter to water your poor, thirsty plant. And oh boy, imagine the data Ikea could collect from you for those decking out their apartments in the company's inexpensive furniture. But the company acknowledges both its infancy in the industry as well as the implications, both good and bad, of AI.
"We acknowledge the serious concerns people have about biased algorithms, the displacement of workers in an automating economy, the emergence of a widespread surveillance culture and even AI as a threat to humankind," Bas van de Poel from SPACE10 said in the press release. "At the same time we know AI offers tremendous benefits to the lives of the many people and that its exponential growth is inevitable. So, how do we make sure we make it a good thing? We believe in opening up the debate, before jumping into development – asking people how they feel about AI and what they expect from it."
Wouldn't it be nice to see Silicon Valley democratize privacy-invading technologies with such careful consideration? That said, keep your AI out of my damn couch.