Obama fires off a rare tweet to show support for Jimmy Kimmel's tearful ACA speech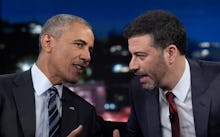 Former President Barack Obama sent a message of support to comedian Jimmy Kimmel, who revealed in a tearful Monday night monologue that his newborn son underwent open-heart surgery, branding him with a pre-existing condition just days into his life.
"Well said, Jimmy," Obama tweeted of Kimmel's speech, in which Kimmel made an appeal for lawmakers to uphold the pre-existing condition protections guaranteed by the Affordable Care Act — better known as Obamacare.
"That's exactly why we fought so hard for the ACA, and why we need to protect it for kids like Billy," Obama added, referencing Kimmel's son, who will need to undergo multiple heart surgeries to correct his condition.
Kimmel, in his speech, said before the ACA was passed, his son could have been blocked from ever receiving health insurance coverage in his lifetime.
"We were brought up to believe that we live in the greatest country in the world," Kimmel said. "But until a few years ago, millions and millions of us had no access to health insurance at all. You know, before 2014, if you were born with congenital heart disease, like my son was, there's a good chance you'd never be able to get health insurance, because you had a pre-existing condition." 
Obama's tweet was one of just a handful he's sent since leaving office on Jan. 20 — and comes as the Republican Party struggles to make good on a seven-year promise to repeal Obama's signature domestic achievement. 
The current iteration of their Obamacare repeal bill would allow states to waive pre-existing condition protections, as well as nix the mandate that plans cover Essential Health Benefits, which include hospitalization and prescription drug coverage. 
As of Tuesday afternoon, at least 20 House Republicans plan to vote against the bill, according to a Huffington Post count — just shy of the 23 needed to kill it.