'Sense8' Season 2 Release Time: When to watch new episodes on Netflix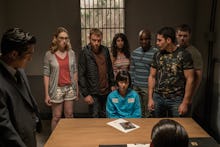 After almost two years, fans of Sense8 will finally learn what their favorite (and not so favorite) sensates are up to. 
For those unfamiliar with the drama created by Lana and Lilly Wachowski, Sense8 follows a group of interconnected "sensates" who can see and "feel" each other's daily experiences from across the globe. Netflix will release season two on Friday at 12 a.m. Pacific and 3 a.m. Eastern.
At the end of season one, which premiered in June 2015, viewers learned that Whispers, the show's main villain, had psychically linked himself to perpetual good guy Will in order to track down the other sensates. According to a Netflix press release, season two promises to follow up on this story, with the sensates on the run from Whispers and banding together for survival. 
This will be the first season with Lana Wachowski acting as sole creator and showrunner. Lilly Wachowski bowed out in May 2016 to take a short break from showbiz after coming out as transgender that March. This will also be the first season with Toby Onwumere replacing Aml Ameen as Nairobi bus driver Capheus. Ameen left the show in April 2016 due to "creative differences" with the Wachowskis.
You can catch a glimpse of Onwumere as Capheus in these second season stills, which also include shots of Sun in jail and closeted actor Lito with his boyfriend Hernando. The sensates seem closer than ever, as the former strangers courageously back each other up. It looks like viewers can also expect some more kick-ass action scenes and sweeping emotional moments. 
Mic has ongoing coverage of Sense8. Please follow our main Sense8 hub here.