Watchdog groups: Trump inaugural "recklessly evaded" donor disclosure requirements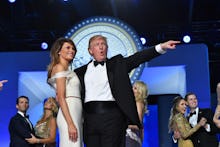 A pair of nonpartisan watchdog groups are accusing President Donald Trump's inaugural committee of having "recklessly evaded" its duty to provide information to the Federal Election Commission about who paid for the big event.
In a complaint filed Tuesday with the FEC, Campaign Legal Center and Democracy 21 said the Trump committee fell down on the job on even the simplest data-collection tasks.
According to a statement from the CLC's Brendan Fischer, Trump's inaugural team "failed to collect information from some donors, failed to verify false addresses from others and may have even made up information that it certified to the FEC as true and correct."
"This failure deprived the public of important information it is entitled to about who contributed what to pay for President Trump's inauguration," Democracy 21's Donald Simon said. "It also violates the reporting provisions of the law."
A spokesperson for the Trump campaign couldn't immediately be reached for comment Tuesday.
Trump's Jan. 20 inaugural and the events surrounding it were underwritten by massive checks from power brokers in the worlds of business, politics and sports. 
Overall, the inaugural committee collected a record-breaking $106.8 million in donations, according to FEC filings.
This isn't the first time the CLC has gone after the record-keeping of the Trump campaign: In March, the group filed a complaint alleging that Team Trump had wrongly classified certain donations as debt retirement from the 2016 campaign rather than funds for a 2020 re-election bid. As a result, the campaign amended its FEC reports.