'Master of None' Season 2, Episode 6: 'Death Castle' is a fake movie that needs to happen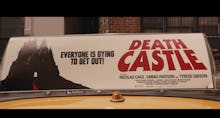 Netflix's Master of None exists in an entertaining alternate reality, one where Aziz Ansari is a budding actor named Dev who auditions for faux films like The Sickening, your standard sci-fi thriller fare. One of my favorite parts of the series — which released its second season Friday — is when viewers have those little moments of being reminded this is a slightly different take on our world. (For a similar, though more surreal, example, look at FX's Atlanta). 
But perhaps Master of None was a bit too effective in season two's sixth episode, "New York, I Love You," because now Death Castle needs to happen. 
(Editor's note: Spoilers for "New York, I Love You" and the fake Death Castle movie below.) 
Here's what we know about Death Castle: It's some kind of hybrid horror-thriller with an eclectic cast, starring Nicolas Cage, Emma Watson and Tyrese Gibson. (I hope to see them all on-screen together one day.) The slogan, as seen on promos across New York: "Everyone is dying to get out." We're introduced to the tempting premise of Death Castle through Dev and his friends, as well as a trio of New Yorkers: a doorman, a deaf bodega cashier and a taxi driver. 
The reviews for Death Castle are great. As Sandy Kenyon of the local ABC affiliate fictitously raves, "lower the drawbridge and get thee to the nearest theater." It also has an M. Night Shyamalan quality to it, as Death Castle is predicated around a huge third-act twist. So, spoiler alert: Nicholas Cage is a black guy named Desean the whole time, and the eponymous castle is actually heaven. There's probably some deeper analysis worth developing about the state of heaven if it's presented as a "death castle" hellscape, but I'll leave that in the capable hands of Sandy Kenyon. 
Still, everyone in Master of None seemed to enjoy the film. As the doorman, cashier, cab driver and Dev's group watch Death Castle in the same theater at the end of the episode, everyone has the same stunned reaction to Cage's character pulling off the big twist — except the poor cab driver, who had the twist spoiled by two chatty passengers. "There is no Desean ... only me, Troy Avery," Cage's character says. "Troy Avery is Desean Townsend." Man, that theater was shook. By the way, the voice of Cage was actually Andy Samberg, according to Master of None co-creator Alan Yang.
I will gladly sign a petition to make Death Castle a real thing. Emma Watson needs some good press after the dumpster fire that was The Circle, Nicolas Cage is probably game for anything and Tyrese just wants to earn that paycheck. If the internet can turn a photo of Rihanna and Lupita Nyong'o into a legitimate movie pitch, we can make Death Castle happen. 
The second season of Master of None is currently streaming on Netflix. 
Mic has ongoing Master of None coverage. Follow our main Master of None hub here.