55 members of Congress sign a letter asking Trump to fire Sebastian Gorka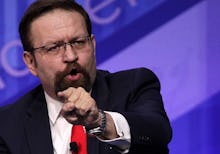 Fifty-five members of Congress just sent a letter urging President Donald Trump to fire White House counterterrorism adviser Sebastian Gorka over his alleged ties to anti-Semitic Nazi groups in Hungary. 
"Based on recent revelations about Mr. Gorka's public support for and membership in several anti-Semitic and racist groups in Hungary he is clearly unfit to serve in any position of responsibility in your administration," the letter reads.
Several investigations by the Jewish Daily Forward and other outlets have found ties between Gorka and far-right anti-Semitic political parties in Hungary as well as potential ties to a Nazi-allied group known as Vitézi Rend. The Forward even uncovered video of Gorka expressing public support for a Hungarian militia group that was known for referring to Jews as "Zionist rats," "locusts" and "nation destroyers."
Over the weekend reports surfaced that Gorka was planning to leave the White House and accept a new role elsewhere. White House press secretary Sean Spicer told reporters on Monday that he has "no belief that [Gorka] is currently leaving the White House at this time." 
Some believe that the White House is laying the groundwork for Gorka's resignation this summer to take a different position in the administration. But Democrats argue in their letter that Gorka is unfit for "any position of responsibility" in the executive branch.
Rep. Jerry Nadler recently criticized the White House's decision to keep Gorka on after the administration ignored requests for the administration to present Gorka's immigration papers to Congress. If the European-born Gorka failed to disclose any association with the Nazi-affiliated group Vitézi Rend, he may be eligible for deportation.