Donald Trump and Vladimir Putin vow in phone call to work to end violence in Syria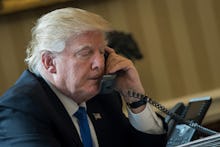 President Donald Trump and Russian President Vladimir Putin agreed during a Tuesday phone call to work together to resolve the ongoing unrest in Syria.
The two superpower leaders "agreed that the suffering in Syria has gone on for far too long and that all parties must do all they can to end the violence," the White House said in a readout following the conversation.
Trump and Putin discussed "safe, or de-escalation, zones to achieve lasting peace for humanitarian and many other reasons," according to the readout.
The two "also discussed at length working together to eradicate terrorism throughout the Middle East" as well as "how best to resolve the very dangerous situation in North Korea."
The Interfax news service reported Trump and Putin indicated they'd pursue personal talks during the G-20 summit in Hamburg in early July.
Diplomatic tensions between the United States and Russia became strained after the U.S. launched a missile strike against an airfield the government said Syria's embattled Assad regime used to stage a chemical weapons attack that killed and injured civilians. 
Putin condemned the American strike as an unwarranted act of aggression.
The conversation was the third between the presidents since Trump took office in January, per CNN.