For actor-artist Raleigh Ritchie, music is his battlefield, 'Game of Thrones' is vacation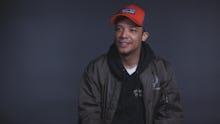 A eunuch soldier and an aspiring pop auteur — for an artist trying to establish a coherent creative persona, they're not exactly the most complementary roles. But they're both parts that Jacob Anderson is currently playing.
Anderson is most recognizable for his work as an actor: On HBO's Game of Thrones, he's Grey Worm, the stone-faced, mostly silent lieutenant to Emilia Clarke's Khaleesi. But however plum that gig may be for a 26-year-old looking to rack up some solid IMDb credentials, the ongoing war for the Iron Throne and Emmy gold isn't where Anderson's true passion lies. The conflicts he's most keen to make sense of are the ones facing him in real life: issues with his relationships, his personal growth, his identity as a black man. Anderson explores those via his musician alter-ego, Raleigh Ritchie. 
When asked, during a recent visit to Mic's New York City office, about how he balances his dueling pursuits, Anderson said: 
"One is kind of respite from the other. ... Writing songs for me is really personal. It's a really cathartic thing, but it requires me to really engage with what's going on in my head. So I have to be stuck in there to get it out. Whereas if I'm acting, it's sort of the opposite thing. It's like putting stuff into my brain to get me away from what my brain actually is."
His dark, nebulous music is marked by shadowy tones, solid rhythms and a sense of searching — the sound of someone laying himself bare over elastic pop and electronic soul. As Ritchie, Anderson's plainspoken lyrics stand front and center. His voice cycles through dizzying highs and brooding lows. It's a technique he honed on his major-label debut album, 2016's big-hearted You're a Man Now, Boy, and it's one he's looking to refine on future material, while also avoiding the gendered tropes of mainstream pop and R&B.
Anderson has been crafting songs far longer than he's been acting. Growing up in Bristol, England, he began learning production at age 11 and wrote his first song at around 13 or 14, by his estimation. He signed to Columbia Records in 2013, a week before he found out that he'd landed the role on Game of Thrones, and his first EP, The Middle Child, dropped right before the show's third season concluded in June 2013. His recording alias, Raleigh Ritchie, stems from his admiration of actor Bill Murray and Wes Anderson's 2001 film The Royal Tenenbaums. It's a nod to Raleigh St. Clair, the character Murray played in the film, as well as to Richie Tenenbaum, the suicidal ex-tennis star portrayed by Luke Wilson.
"I think Richie Tenenbaum is definitely struggling with who he is and who he's supposed to be," Anderson said. "He's depressed and he's going through some shit, and I think, yeah there are definitely parallels between where his head is at in the film and where my head has been at in my life."
Ritchie's music carries much of Murray and Wes Anderson's sardonic whimsy. On the dashing "Keep It Simple" — which features an assist from rising grime luminary Stormzy — Ritchie works to keep it cool around his new love, trying to suppress a "Gene Kelly moment" but also reminds himself that "everything ends." He grapples with his self-confidence on the pensive "Stronger Than Ever," backed by future-facing R&B outfit the Internet, boasting of his ability to single-handedly "destroy the status quo," while shyly admitting he's terrified of failure.
Ritchie can see that threat creeping in at the corners of his career. There's always the risk that his music will be overshadowed by the false narrative that it's a mere hobby, a distraction from acting, or that it'll fall victim to restrictive labels that immediately pigeonhole it as R&B, rather than embracing it for what it is — earnest pop with a palette for experimental beats. "I'm a pop artist," he said definitively, adding:
 "The reason I say that is because pop, to me, it's not tribal. You think about hip-hop, you think about R&B, you think about country, they have have an associated look and an associated culture around them, and I think pop feels like a sort of embracing. I think it's an embracing of different tribes and different people coming together and celebrating one thing."
He loves blockbuster Billboard fare like One Direction and Katy Perry, yet he's also well versed in the music of the Soulquarians collective, made up in part of Erykah Badu, Common and Talib Kweli, and names Kanye West's 2004 solo debut The College Dropout as his greatest inspiration. Despite drawing on a range of influences, he's aware that being an artist of color can sometimes lead to lazy categorizations that don't really fit.
"There's possibly a racial or social context that changes [how people define you]," he said. "Like you can't be anything. You must be R&B or hip-hop. I wonder if FKA Twigs was white, would she be R&B?"
Ritchie's music seeks to push beyond these types of boundaries. His sophomore full-length, which he's deep in the process of writing, will likely work to break down even more barriers. For that next project, he's also looking to challenge his own sense of self: his political beliefs, his masculinity and how he addresses other people in his music. 
"Sometimes I listen back to early songs that I've written and I kind of cringe a bit because I'm like, yeah, I've totally followed this sort of R&B or pop or hip-hop or rock sensibility of a man being a man and a woman being a woman — and, 'I'm going to do this for you, and I want to do that for you.' ... And I'm kind of like, 'Ew. Why did I just ... that's not ... I don't really feel like that. That's not the kind of person I am.'"
Anderson recently wrote a song scrutinizing the modern, Western understanding of masculinity and femininity and the pronouns those definitions rely on. "What does it mean to be a man and does it mean anything at all?" he said, describing his creative and thought processes of late. "What does it mean to be a woman and does that mean anything at all? And what does it mean to be a brown man?"
Those are serious questions. Anderson won't be satisfied until he finds some answers.
Mic has ongoing music coverage. Follow our main music hub here.