8 books to read before their movie adaptations are released this summer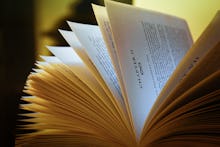 Summer is right around the corner, which means a slew of awesome movies are about to hit theaters. And while watching Tom Cruise face off with the Mummy might be ideal for action enthusiasts, what about moviegoers who are looking for a somewhat deeper film experience? Well, this year, they're in luck — a number of novel adaptations will be gracing the big screen starting as early as May.
Unfortunately, that doesn't give people who like to read the book before seeing the movie it's based on much time to get up to speed. 
So for those literary types who prefer to go from page to screen rather than the other way around, here's a helpful list of all the book adaptations making their movie premieres this summer.
Not your average thriller, The Dinner is about two couples who meet for dinner in Amsterdam. Eventually, their discussion lands on their sons, who were involved in a terrible crime when they were 15 years old, which ultimately wreaked havoc on their families. A difficult decision must be made, and all over the course of a meal. 
The film, which hits theaters May 5, stars Richard Gere, Laura Linney, Steve Coogan and Rebecca Hall. With a cast like that, this film is definitely one to mark on the calendar. 
Maddy Whittier is allergic to everything and everyone. And although she basically lives like the Bubble Boy — sealed inside her home, only seeing her mom and nurse — she manages to fall in love with Olly, the boy who moved in next door. 
Amandla Stenberg – the girl who played Rue in The Hunger Games — portrays Maddy in this film, which debuts May 19. Her love interest, Olly, is played by Nick Robinson, who appeared as Ryder on Melissa and Joey.
Imagine a superhero created by two elementary school boys that suddenly comes to life. That's the premise of this children's book, and the catalyst for all the wackiness that ensues. 
Based on the cast — Kevin Hart, Nick Kroll, Kristen Schaal, Ed Helms — the film adaptation, premiering June 2, should be hilarious. 
This story was made for Gothic novel fans. Philip Ashley becomes heir to his guardian Ambrose's estate after the latter dies suddenly. When Philip comes to claim his property, however, he is beguiled by a cousin who also happens to be Ambrose's widow. His feelings about her teeter between suspecting she's the murderer to falling in love with her.
Rachel Weisz plays Rachel in the film adaptation, out July 14, and Sam Claflin of The Hunger Games and Me Before You plays Philip. 
What's not to love about futuristic time travel? Valerian and Laureline are agents who protect their city Galaxity from rogue time travelers in the 28th century. In order to do so, however, they must go back to 1986 New York City, which is about to succumb to rising waters rather than bad '80s pop music. Their job is to stop the injustices in the past so that they can save the future.  
Retitled Valerian and the City of a Thousand Planets, the movie adaptation stars Cara Delevingne, Dane DeHaan and Ethan Hawke who plays Jolly the Pimp, aka the greatest-named character ever. The film premieres July 21.
A Western set in a dystopia, this thriller-action novel focuses on gunslinger Roland Deschain and his quest to find the Dark Tower, which will apparently help save his world from destruction. 
The film, out Aug. 4, is actually based on the entire series of Dark Tower novels (there are eight), which is why it's simply called The Dark Tower. It stars Idris Elba as Roland Deschain, and the consummate cowboy Matthew McConaughey as the illusive Man in Black. Check out the trailer here.
7. Tulip Fever, by Deborah Moggach
A romance novel perfect for August, Tulip Fever is about the tulip mania that took over Amsterdam in the 1600s. At the time, it represented exoticism and riches. Wealthy merchant Cornelis Sandvoort commissions a portrait of the himself and his wife, Sophia, by the painter Jan van Loos. Then, Sophia and the painter begin to fall in love. Inevitably, conflicts arise. 
This adaptation, in theaters Aug. 25, stars Cara Delevingne and Dane DeHaan, who plays Jan van Loos, along with Alicia Vikander as Sophia and Christoph Waltz as Cornelis Sandvoort. No doubt Waltz will provide a particularly intense performance as the jealous husband.
8. It, by Stephen King
It looks like King will be making a killing this summer (necessary murder pun). This well-renowned horror story features an unknown evil which usually appears as a terrifying clown who goes around hunting children in the small town of Derry, Maine. Seven teenagers who were tormented by It as kids return to the town as adults to fight back now that the murders of children have begun again. 
The first adaptation of It came out more than 25 years ago, in 1990, starring the incomparable Tim Curry as Pennywise the clown, aka It. It will be interesting to see how this new version, out Sept. 8, stacks up. Bill Skarsgård has some awfully big shoes to fill (necessary clown pun).  
Mic has ongoing books coverage. Follow our main books hub here.