Trump appoints guy who opposes renewable energy to lead renewable energy department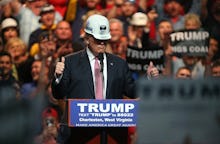 President Donald Trump has tapped Dan Simmons — an opponent of renewable energy — to lead the Office of Energy Efficiency and Renewable Energy, according to reports.
Simmons — formerly the vice president for policy at the conservative, pro-fossil fuel Institute for Energy Research think tank — has yet to be officially announced, according to the Washington Post. But E&E News, an outlet focusing on energy and the environment, is reporting that the renewables critic will be the acting assistant secretary of the office until the Senate confirms someone to the post. 
Simmons would seem an odd choice to head the Department of Energy office tasked with developing renewable energy, but his selection is in line with a number of officials Trump has nominated to run agencies whose mission they apparently oppose. 
Scott Pruitt, who Trump chose to lead the Environmental Protection Agency, is a climate change skeptic who has waged legal battles against environmental initiatives. 
Rick Perry, Trump's energy department head, famously forgot the name of the department he now runs while trying to list agencies he'd eliminate if elected president during a televised Republican primary debate in 2011.
Betsy DeVos — a school voucher and charter school advocate with no experience in public education — now leads Trump's Department of Education.
Simmons — whose previous jobs include gigs at the right wing American Legislative Exchange Council and the House Natural Resources Committee — fought pro-renewable policies as vice president of the Institute for Energy Research, which is funded by fossil fuel interests, according to the Hill. 
Tom Pyle, president of the Institute for Energy Research, led Trump's energy transition team. Trump has proposed slashing the EERE's budget by 53%.