Fyre Festival refund: How to get money back and lawsuit details on the Ja Rule-backed fest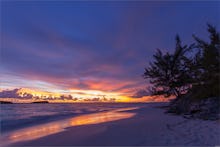 After the Ja Rule-backed Fyre Festival was cancelled last Friday — following mass complaints about the "tent city" accommodations, shoddy food and last-minute withdrawal by headliner Blink-182 — the festival's official website ditched its glitzy marketing campaign and posted a solemn message: "We will be working on refunds over the next few days and will be in touch directly with guests with more details."
A member of the festival's management team told Rolling Stone that guests were "sent the appropriate form to start the refund procedure," claiming that "currently 81% of guests who have filled out the refund application have said they would like to attend Fyre Festival 2018," in a story published Monday.
Indeed, the organizers' form gives ticket holders the option to trade their refund away in exchange for upgraded VIP passes for the 2018 festival. Whether that alleged 81% figure will hold up after all refund requests are processed is another question.
As Alexandra Jacobs at the New York Times pointed out, getting 2018 tickets to Fyre Festival is kind of like getting a free flight after an emergency landing.
Another question on the Fyre form? Whether you'd like to receive a phone call from a festival organizer — presumably to say sorry.
How to get your Fyre Festival refund
Apologies are nice and all, but if you just want your money back, focus on filling out the online form linked to in the refund email sent out over the weekend. It may be a pain — it's a "multi-page application," Consequence of Sound reports — but at least you're getting your fees back.
What's more, at least one attendee said she was able to get an immediate refund for funds loaded onto a digital bracelet to use at the festival simply by calling her bank.
"[Bank of America] didn't even do a temporary credit; they just refunded it," Shivi Kumar told the New York Times. So it's worth a quick call to your bank or credit card company to see if you can get a similar deal.
Really like to live dangerously? You could pass on the refund and instead "let it ride." Meaning, instead of getting money back for tickets, which cost as much as $4,395 for a luxury villa, you are promised a two-for-one deal for 2018.
The refund form states: "Would you prefer to exchange your 2017 ticket(s) for additional 2018 VIP passes, as opposed to receiving a refund? (Ex: If you purchased three passes for 2017 you would receive six total 2018 VIP passes.)"
And why would you trust organizers to pull off an event next year that completely failed this year? The festival site claims: "After speaking with our potential partners, we have decided to add more seasoned event experts to the 2018 Fyre Festival, which will take place at a United States beach venue." 
The organizers have reportedly been banned from holding future events in the Bahamas, which may explain the new venue.
Of course, it also makes sense that organizers might be trying to spend less in 2018, seeing as they are currently facing a $100 million class action lawsuit against Fyre Festival, filed by high profile attorney Mark Geragos. 
"The complaint, filed Sunday in U.S. District Court in California, alleges fraud and breach of contract by Billy McFarland, Ja Rule (real name Jeffrey Atkins) and Fyre Media Inc," the Los Angeles Times notes. And E! Online reports that a second group of festival-goers has filed an injunction to stop Ja Rule and Fyre Media CEO McFarland from doing business.
We say take the refund.
Sign up for The Payoff — your weekly crash course on how to live your best financial life. Additionally, for all your burning money questions, check out Mic's credit, savings, career, investing and health care hubs for more information — that pays off.