Who was eliminated on 'The Voice'? Find out who made the top 10 in season 12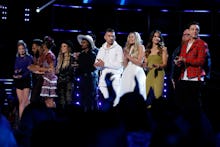 The singers are dwindling week by week on The Voice. After the top 11 performed live on Monday night, another contestant faces elimination Tuesday night. 
Here's how the season 12, episode 19 elimination went down.
Team Blake's Lauren Duski, the country singer from Michigan, and Team Adam's Jesse Larson, who delivered a performance outside of his comfort zone, are the first two singers saved by America.
Team Alicia's Chris Blue, who brought down the house to close out the night on Monday, and Team Gwen's Brennley Brown, the youngest singer left standing in the competition, also made the cut.
Team Blake's Aliyah Moulden, the other 15-year-old along with Brennley, and Team Adam's Lilli Passero, who went the jazzy route, keep going for another week.
Team Alicia's Vanessa Ferguson, who did shine bright like a diamond like her song's lyrics; Team Gwen's Hunter Plake, who gets better every week; and Team Blake's TSoul, who proved he can slay a modern song, land the final saves before the bottom two are revealed.
Ultimately it comes down to Team Alicia's Stephanie Rice and Team Adam's Mark Isiah. America saves Isiah for the second week in a row and Rice is eliminated from the season 12 competition.
The Voice airs at 8 p.m. Eastern on Monday and Tuesday on NBC.
Mic has ongoing The Voice coverage. Check out our main The Voice hub here.