From Jordan Edwards to Alton Sterling, what will it take for justice to be served?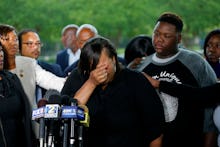 Jordan Edwards should be alive. The 15-year-old honor roll student was leaving a house party in Balch Springs, Texas, when he was shot and killed by an officer responding to a call about "drunk teens." His two brothers were arrested while Jordan lay dying in the front seat of the car, his family said in a statement.
Edwards' family responded to news that the officer who shot him, Roy Oliver, had been fired on Tuesday night. "The magnitude of his horrible actions cannot be overstated," the family said in a statement. "We fully expect an equivalent response from those responsible for investigating and punishing the crime."
We can only hope that the family's hopes and expectations for justice won't be in vain. But if we look to recent developments in police shooting cases, for too long, families of victims of police brutality have waited months — and even years — for answers. Too often, officers are not held accountable for their actions. 
Take this week for example. On Wednesday, the Justice Department announced that the Baton Rouge, Louisiana, officers involved in the shooting of Alton Sterling would not face federal charges. In July 2016, cell phone footage showed the 37-year-old's arrest and shooting and sparked civil unrest across the nation.
"We are unable to establish beyond a reasonable doubt the precise location of Mr. Sterling's hand at the moment at which the officer states on the recording that Mr. Sterling was 'going for a gun,'" acting U.S. attorney Corey Amundson said at the press conference.
Sterling was a man of size who couldn't be handcuffed, Amundson said of the department's investigation. 
"Officer [Blane] Salamoni then pulled a gun and point it at Mr. Sterling's head, prompting Mr. Sterling, who appears confused at this point, to put his hands on the hood," he said. "Mr. Sterling's size, 6'3" and over 300 pounds, made it difficult for officers to control, much less handcuff, Mr. Sterling at that point."
Of course, this isn't the first time we've been here. It's the latest incident where a police officer won't be held accountable for their use of excessive force. Tamir Rice, just 12 years old, looked "big for his age," prosecutors said, and was holding a toy gun that posed a threat. In December 2015, a grand jury decided not to indict officers. Michael Brown "looked like a demon," Darren Wilson said, and a grand jury cleared him of criminal wrongdoing in November 2014. The Justice Department later decided not to bring federal charges against him.
Even when charges are made against an officer, the path toward justice isn't necessarily clearer. On Tuesday, Michael Slager, the South Carolina officer who shot and killed Walter Scott, pleaded guilty to civil rights charges, thus avoiding a federal civil rights trial as well as a retrial on state murder charges. Aiyana Stanley-Jones, just 7 years old, was killed during a police raid in Detroit in 2010. Two jury trials ended without a verdict on a reckless gun charge before a judge dismissed an involuntary manslaughter charge.
These are just a few miscarriages of justice when it comes to police use of excessive force. There are dozens of other cases that have rocked communities, from Philando Castile in St. Paul, Minnesota, to Terence Crutcher in Tulsa, Oklahoma, where decisions are yet to be made about the officers' fate. Here's hoping that in these cases and others, that justice for black lives is not out of reach.
(Editor's note: The following video contains graphic footage. View with discretion.)