3 secrets to success, according to celebrity chef Mario Batali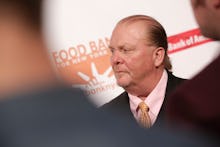 Celebrity chef Mario Batali likes to have a plan.
Though the restaurant mogul owns dozens of eateries already, he is still holding out and waiting for just the right storefront to open up for his new San Francisco location. Plus, Batali says, in a new interview with LinkedIn, he currently has a house in Northern Michigan — hidden away in a secret location, just in case a revolution "based almost exclusively on access to good food" goes down. Not a terrible plan: The Great Lakes have about a fifth of earth's fresh water supply.
But, despite these type-A tendencies, Batali actually didn't always know he wanted to get into the restaurant business, as he explained in the interview.
When his mom suggested he enroll in a culinary institute while he was in high school, he balked. Having just seen the movie Animal House, Batali was dead-set on getting the classic collegiate experience, what he called the "John Belushification of my possible life." Then, a college job at an Italian restaurant called "Stuff Yer Face" (yup) quickly made Batali realize he had found his tribe.
Just goes to show that you don't have to be born with a plan to become a success. Here are three more insights on work and career happiness from the interview with the culinary legend.
1. Find out what makes you lose yourself
Lose yourself in your work — in a good way, Batali advises. Whether it's cooking or driving a taxi, he said, the most important thing is to fully enjoy your profession, so much that it absorbs you.
"Whatever you want to do, find something that you love and you'll be so excited by it every day that you never feel like you're looking at you[r] clock thinking, 'Oh man, another hour I can go home,'" Batali said. "It's more like, 'Fuck, I should've gone home two hours ago, I'm still here.' And that's an ideal position to be in."
Now, finding a steady job that you truly enjoy is easier said than done. One method developed by veteran career coach Richard Leider? Discover your calling by breaking out — on paper — a list of the more abstract skills and activities you love. Identify three buckets of qualities: your gifts (personal talents), passions (what you enjoy) and values (what you believe.) 
2. Embrace the chaos of teamwork
Batali points out that with the right attitude, you can succeed as a team — even if you don't always like your coworkers.
"I fell in love with the idea of working as a collective group toward a common goal that was vanquished in one day, which is what cooking is," Batali said. "Not necessarily owning a restaurant, but cooking on a daily basis you have to unite with people. Maybe even you don't like them that much, but you work together in a way that you take care of whatever is at hand and you finish it."
Asked about his future plans, Batali said he hopes to never sell any of his restaurants — and instead pass on ownership to the people who came up under him. And though he said he trusts his chefs and deputies to get things done when he's on the road, Batali said he still makes time to debate menu and ingredient choices with them. 
3. Know you can break the rules — as long as you have high-quality people
Batali doesn't follow the playbook they give you in business school: From expansion to succession plans, Batali says he prefers to do it his own way. 
He only opens a new restaurant when there's a sous-chef who is good and ready to be promoted, for example.
"It's not like we just decided, 'All right, let's hire an HR department. Let's put an ad in the paper, and see if we can hire an executive chef and a general manager,'" Batali said. "Fundamentally, what makes a shop, a store, a dish, a single garnish, better than something else, is a human hand." 
Sign up for The Payoff — your weekly crash course on how to live your best financial life. Additionally, for all your burning money questions, check out Mic's credit, savings,career, investing and health care hubs for more information — that pays off.