When does Season 5 of 'Orange is the New Black' come out?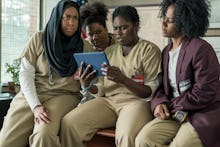 On Saturday, a hacker leaked some of the episodes of the upcoming season of Orange Is the New Black. 
The show is returning this summer for season five and the hacker, who is called TheDarkOverlord, released the new episodes after the streaming service failed to meet their demands.
According to Wired, the leak has not and will not impact Netflix because it isn't worth it to download an entire season. The official premiere date isn't ruined because fans will want to wait to watch the show how it was meant to be enjoyed: on the service. 
The process of having to find the file, download it, wait for it to complete and to stream it on your TV isn't worthwhile when fans can just wait to properly binge-watch it without any hassle. 
Premiere date
The fifth season of Orange Is the New Black is officially set to premiere on Netflix on June 9 despite the leak. Before the latest season arrives on the service, audiences can catch up on the four seasons currently available for a refresher. 
At the end of last season, the prison descended into madness in the aftermath of Poussey's death.
Season five of the hit drama will take place over the course of three days. It picks up where the fourth season left off with Litchfield Penitentiary on the precipice of chaos: Daya has found a gun and fans will find out if she chooses to use it or not. 
Mic has ongoing TV coverage. Please follow our main TV hub here.