'The Flash' Season 3, Episode 21 Preview: Will Barry stop Savitar in "Cause and Effect"?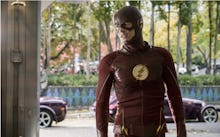 It took every bit of 20 episodes, but Barry Allen — and audiences all over the world — now know Savitar's identity. Haven't watched? Now's a good time to stop reading. For those still here, Tuesday night's The Flash finally answered the burning question: Who is Savitar? The answer: Barry Allen, the Future Flash. 
In retrospect, there were only two people that really ever could have been Savitar: Wally West or Barry Allen. The self-proclaimed "God of Speed" had already teased that he created himself. And that could have applied to Barry or Wally. For Wally, Savitar literally gave him his speed. As for Barry? He did something much worse. 
It seems that killing Iris will send Barry down a path of unrelenting despair that will eventually lead him to becoming his own worst enemy. And now that Barry knows that he will become Savitar, the big question is whether he can prevent his own fate. How do you stop someone that knows every move you will make? 
In season three, episode 21, titled "Cause and Effect," Team Flash will resort to a drastic option — preventing Barry Allen from forming new memories, and thus stripping Savitar of his greatest advantage. And if the promos are any indication, this could lead to some welcome comedic moments, especially after two rather dark episodes. 
With only three episodes left in The Flash's third season, we will likely see quite a few more interactions between Barry and his future self. And from the sounds of it, these scenes will be exceptional. 
"If everything Grant [Gustin] has done up until now, including the musical, hasn't blown you away with his talent, I think when you see scenes of him and Savitar together, you're really going to be blown away because he's found a whole new speed for him," executive producer Andrew Kreisberg said in an interview with Entertainment Weekly. 
As for The Flash's next episode, "Cause and Effect," there will be a whole lot going on, including a mysterious proposal from Killer Frost. For more on episode 21, check out the official synopsis, via Spoiler TV, below:
Barry takes drastic measures to stop Savitar. Meanwhile, H.R. continues to push Tracy Brand to design the trap for Savitar and Killer Frost returns with an interesting proposal.
Need a bit more? Here is the promo for "Cause and Effect."
Mic has ongoing coverage of The Flash. Please follow our main The Flash hub here.