This photo of a Czech girl scout standing up to a far-right extremist is going viral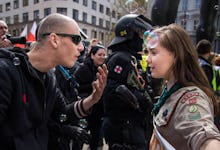 A powerful image of a Czech girl scout standing up to a far-right demonstrator during a protest in Brno, Czech Republic, on Monday is going viral. The image, first shared by Vladimir Cicmanec, was shared across social media — including by the Facebook page of the World Organization of the Scout Movement, which identified the girl in the photo as "Lucie." 
"People from all walks of life, and #Scouts among them, came to the streets during an extreme right march yesterday, to express their support for values of diversity, peace and understanding," the WOSM said on Facebook. "Creating a better world!"
One member of the Czech scouting organization reportedly wrote on Facebook that the counter-protesters had heard there was a "far-right march" and "came to protest against neo-Nazis with drums and so on," Mashable reported on Wednesday.
Czech public radio broadcaster ?eský rozhlas reported that the scout in the picture, 16-year-old Lucie Myslíková, who goes by Lala, has become a momentary celebrity because of the viral photo. "Protesting is definitely meaningful," she told the outlet.
Other onlookers seemed to have caught the same moment from other angles.
The image out of the Czech Republic is evocative of a viral image out of the U.K. in April, of a young woman smiling down a far-right demonstrator as right-wing nationalists and counter-protesters faced-off during a rally.