'Fargo' season 3, episode 3 uses animation and a trip to LA to tell a familiar story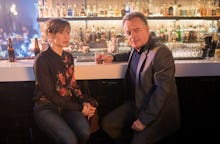 In case there's any concern about the Fargo model growing stale as an ongoing FX anthology series, writer and creator Noah Hawley didn't just change locale in season three's third episode, "The Law of Non-Contradiction." He dipped his toes in animation. Though technically not his first foray into animation on the small screen — Hawley's other FX-Marvel series Legion used a comic book-esque series of images over a chalkboard to detail its main character's background — it's the first use of the medium in the Fargo universe. Was it dope? You betcha! 
"The Law of Non-Contradiction" is a bottle episode for former Eden Valley police chief Gloria Burgle. Gloria makes her way to Los Angeles to learn more about her stepfather, Ennis Stussy, who was murdered in a case of mistaken identity in the season three premiere. Why Los Angeles? Gloria suspects Ennis used to be a budding science-fiction novelist named Thaddeus Mobley after finding a collection of the author's books, some newspaper clippings and a trophy stashed away in Ennis' house. The trip — which, mind you, wasn't approved by Gloria's new boss back in Minnesota — is a way for her to make sense of a senseless murder. 
This is, of course, a fruitless journey from the viewer's perspective. We know why Ennis was killed, and it wasn't due to lingering enemies from a past life. It was all for a darn stamp. But Gloria's trip isn't without its merits. For one, the juxtaposition between Gloria's Minnesota niceness and the stereotypically sleazy characters of Tinseltown is endlessly entertaining. My personal favorite: when she mistakenly interprets her motel room as having an ocean view when, in fact, the manager meant it just smelled like the ocean. 
She also learns more about her stepfather through two shells of his former life as Thaddeus: Vivian, a onetime actress and current diner waitress, and a hospitalized former producer named Howard Zimmerman. In flashback sequences of a young Thaddeus — who kind of looks like Justin Long with a pornstache — he's chewed up and spit out by Howard and Vivian over a movie adaptation of his award-winning sci-fi novel, The Planet Wyh. He dispenses several checks to Howard and cocaine to himself and Vivian before realizing, much too late, that he's being played. 
Thaddeus' harrowing arc reads like a scathing Hawley editorial of Los Angeles: He, too, was an up-and-coming novelist who didn't catch a break for a long, long time. Now that he's made it big, he calls the more low-key Austin, Texas, his home base, which doesn't appear coincidental. 
The Planet Wyh is also the subject of Fargo's surprising use of animation. The story is sort of an inverse Wall-E, in which an android crash-lands on a planet before the dawn of civilization while his scientist companion, voiced by Ewan McGregor, dies from the impact. He asks the robot, Minsky, to get word back to their people that the mission wasn't in vain. Minsky — whose only dialogue is a cheerful "I can help!" — bears witness to a couple million years of evolution, little of which treats him well, until his scientist companions return to shut him down. 
It's an ideal companion piece to Gloria's trip to Los Angeles. She is the Minsky of the Fargo story: a well-meaning person in a foreign place, whose friendliness is nigh-invincible despite encountering the scourge of the city. Consider the cop she meets, who's less interested in helping with her murder case than getting in her pants, or the aforementioned motel manager who doesn't budge when Gloria's suitcase is stolen by a Santa Claus impersonator (long story short: There was a Santa Claus convention at the motel).
"The Law of Non-Contradiction" wasn't a necessary detour from the Midwest, but it did prove a compelling one, which should shift Gloria's focus back to the case at hand. To refer back to the season premiere's cold open in 1988 East Berlin, she saw the Ennis murder and was looking for a "story" to make sense of it. Thaddeus' life in Los Angeles, however, is unrelated to the "truth." 
She's already putting the pieces in place when she returns to Minnesota: Maurice LeFay's fingerprints were found at the Stussy home, and his head was smashed in with an air conditioner in the dead of winter. Coincidence? Rarely so in Fargo.
Fargo airs on FX at 10 p.m. Eastern on Wednesdays. 
Mic has ongoing Fargo coverage. Follow our main Fargo hub here.