Fyre Festival: A startling majority of attendees interested in attending next year's event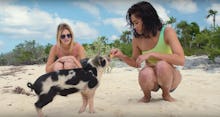 Ah, the Fyre Festival, treasure-hunting island getaway for the Instagram elite, what fond memories we had: the cold, disassembled sandwiches, the shoddy tents, the lack of water, security and electricity, the feral dogs and that general feeling of fear and organized chaos. It was a musical experience unlike any other, largely because there was no music. 
Fyre was a festival pitched with all the greatest buzzwords, and it delivered on nearly none of them. And yet there are those that are already wishing to give it another shot.
"Once the refund application process is complete, we will start sharing news on plans for Fyre Festival 2018," a member of the festival's management team told Rolling Stone, in an article discussing the ongoing $100 million fraud and breach of contract case currently leveled against the festival organizers. "Currently 81% of guests who have filled out the refund application have said they would like to attend Fyre Festival 2018. We are so thankful for their support and excitement as we strive to make this right."
To be fair, the vision of Waterworld meets Coachella wasn't every festival-goer's experience, as periscopes from Buzzfeed's Elizabeth Pears showed. But considering all we've learned about the festival's organization over the past few days, that 81% figure is mind-boggling. 
Since the Fyre news went viral Friday, the world has heard from a wide array of insiders responsible for putting together the festival — those who knew the festival was doomed weeks in advance. Yet Ja Rule and the fest's organizers kept the ship sailing straight into certain peril like a feverish Captain Ahab.
A piece from a former talent producer in the Cut detailed how as far back as March, the festival space was still an empty gravel pit with no budget or management available to build out the necessary infrastructure. An early April Wall Street Journal piece revealed the organizers "missed a series of deadlines to make advance payments to performers." Right up until 1:30 a.m. on day one of the festival, festival officials insisted, "We're ready to party," according to Pitchfork.
A music industry insider behind the @FyreFrauds twitter account, which had been warning people about the festival's impending disaster for months in advance, explained to Mic how the plan was pretty much impossible from the jump:
If they'd properly raised funds, and permits, it's at minimum an 18-month job. You're talking about building a small city on a deserted island. That's water power, facilities, medical, transportation. 
All these signs and the organizers did next to nothing to pull the emergency rip cord — well, other than allegedly warn celebrities not to attend, according to the $100 million lawsuit. God knows that without celebrities like Ja Rule and his team of "Fyre starters," as the festival's leaked pitch deck described them, none of this would have been possible.
"They'd be insane to give this another shot," a booking agent responsible for securing acts for Fyre Festival told Pitchfork. "I can't see my agency working with them again, given their current track record, and it'd be safe to assume that others would feel the same way. Beyond this, I can't see how prospective attendees would trust in them again. Overall, it's rather clear the promoters are a bit out of touch with reality if they think they can pull this off again."
However, that 81% interested figure speaks to the contrary. Perhaps, like the promoters, attendees are similarly out of touch. If nothing else, their determination should make for a thrilling sequel of Fyre Festival drama when 2018 rolls around.
More Fyre Festival news and updates
Mic has ongoing coverage of the Fyre Festival fiasco. Read the initial news break here and the side-splitting reactions on social media. Check out a list of artist accounts detailing the red flags they had seen leading up to the festival here, an interview with the person behind the @FyreFraud Twitter account, news of the first lawsuit and how the Bahamian press covered the chaos.