Bard students decry "opaque" invitation of alt-right provocateur Lucian Wintrich to campus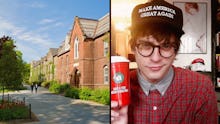 Many students at Bard College are unhappy that alt-right provocateur and Gateway Pundit writer Lucian Wintrich has been invited to speak on campus, a decision they characterized as "opaque" and shrouded in secrecy. 
Wintrich is scheduled to be a part of a Wednesday evening panel called A Living Room Conversation: Crossing the Divide co-hosted by Bard's Hannah Arendt Center for Politics and Humanities. Students who spoke to Mic said they worry that Wintrich, who has been compared to Milo Yiannopoulos for his controversial barbs against certain marginalized groups, will negatively affect the school community. They also said they're frustrated with the perceived lack of transparency regarding his invitation. 
Several Bard students said Roger Berkowitz, director of the Hannah Arendt Center and a professor at the college, has been unforthcoming with details about the event and the decision to give the provocateur a platform. Keegan Holden, a sophomore photography major, said Berkowitz had given him conflicting information.
"Roger Berkowitz has gone out of his way to suppress dissent and claim free speech as this overarching goal of this event while simultaneously suppressing free speech," Holden said in a phone interview. "It's really hypocritical."
Several students say they only caught wind of the event after alumni voiced their disapproval of Wintrich's invitation on Facebook. Current students allege that Wintrich, a graduate of Bard College, has a negative reputation for an incident in which an anonymously penned column on Wintrich's blog described a student's vagina as "cold and damp." The student wrote a response in the Bard Free Press in 2010, which said the column hyperlinked directly to her Facebook page.
Adding to the lack of transparency regarding the invite, students allege the event has only become less accessible. The event moved from the campus center's multipurpose room to the Bitó Conservatory Building on the campus's outskirts. Though it was once open to a wide audience, the Arendt Center forced students to enter a lottery that would randomly select 70 of them to attend. Unlike prior events that the center has livestreamed to the public, this one will be a closed-circuit livestream available in only one room on campus. 
"It's a very strange thing that they're using the argument of free speech and discourse but are closing off the event, when they want students to be exposed to this ideology," Lexi Parra, a junior and a student leader organizing around the Wintrich appearance, said in a phone interview.
Berkowitz said that contrary to rumors floating around campus, he fought to make the event as accessible as possible, resisting administrators who wanted to close off the event or host it in a smaller space.
"In a perfect world and in a world I would prefer, we would have an event that was free and open to as many people who could fit into the room as possible. We don't live in a perfect world," he said. Citing recent protests at Middlebury College and the University of California, Berkeley, Berkowitz acknowledged that Wintrich's appearance takes place in a turbulent national climate around campus speakers.
Security for the event will include "undercover police officers," according to an email obtained by Mic sent to people who registered for the ticket lottery. Holden disagreed with police presence, which he said served as only an "intimidation factor" with no justification.
"I think the sacrifice of freedom for security flies in the face of so much of what Berkowitz and the Arendt Center tout as what's essential for democracy," Hayden Hard, editor-in-chief of the Bard Free Press, said in a phone interview. 
Berkowitz said he is unsure who decided to have undercover police officers. Despite the increased security around the event, the professor pushed back against the criticisms hurled against him. 
"Many other colleges have and would have cancelled such an event," he said. "And we have resolutely refused to do so." 
Though none of Wintrich's scheduled events have caused riots at the level Yiannopoulos' have, New York University postponed an event featuring Wintrich due to security concerns. Meanwhile, he continues to agitate audiences with his targeting of minority groups.
On Thursday, while speaking in front of a group of New York City Republicans, Wintrich was reluctant to use the correct pronouns to discuss former President Barack Obama's LGBT liaison, a transgender woman named Raffi Freedman-Gurspan, and called her an "unattractive tranny."
Campus queer groups have responded to the controversy surrounding Wintrich's Bard visit. Students from the campus' Queer Student Association and Trans Life Collective said they issued a statement to faculty in April calling on the Arendt Center to apologize for its "opaque decision" and to consider how it is accountable to the campus community before inviting speakers.
Both Parra and Holden said they've confronted Berkowitz about his invitation to Wintrich, and that he spoke at length about the virtues of inviting Wintrich. Parra felt that Berkowitz was "defensive" in conversations she had with him about the panel.
"If there had been transparency from the beginning ... I think the climate would be much calmer," Parra said. "But the Hannah Arendt Center has both doubled down and been very defensive and dismissive and extremely sneaky."
To counter Wintrich's appearance, Parra has led students from several on-campus groups in planning a daylong array of events, including a panel on free speech featuring Columbia Law School professor Kendall Thomas. Students will process around campus led by a marching band and print out some of Wintrich's controversial tweets, allowing students to respond to them in writing, Parra said.
"As little as we can feed into the liberal snowflake narrative that both Roger Berkowitz and Lucian Wintrich are espousing, that's what we want to do," she added.
Wintrich did not respond to Mic's request for comment, but he tweeted about the students' plans Wednesday morning, calling it "kindergarten-worthy."