'The Dark Tower' trailer is finally here, and it was worth the wait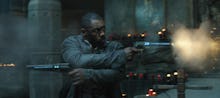 Just over a decade ago, it was announced that a film based on Stephen King's The Dark Tower book series was in development. Since then, the theme of the production has been one of waiting. The proposed adaptation went through several attached directors, including J.J. Abrams and Ron Howard, before landing Nikolaj Arcel to helm the movie. Even more actors were discussed at various points. 
Eventually, a little more than one year ago, Idris Elba and Matthew McConaughey were cast as Roland and the Man in Black, respectively. Production began, and the film was slated for a February 2017 release date. That didn't last long, as The Dark Tower soon moved to late July, and more recently, the first weekend of August. 
With the Aug. 4 release date hopefully set in stone, fans of the book, and other genuinely interested parties, have likely been wondering why a trailer had not yet dropped. After all, one did leak, albeit very briefly, more than six months ago. Remember the theme, though: Waiting. But the time to wait is over, because The Dark Tower trailer is here, and it looks freakin' awesome. 
The trailer does exactly what it should: It introduces the main characters and offers a cursory overview of the plot for those unfamiliar with the world from King's series of books. And from the look of this first clip, The Dark Tower may just be one of the more exciting films of an already jam-packed summer. 
No more waiting. Here is the trailer.
The Dark Tower will be released in theaters on Aug. 4. 
Mic has ongoing coverage of Movies. Please follow our main Movies hub here.