American citizen detained in North Korea is suspected of wanting to commit "hostile" acts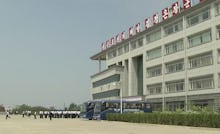 Tony Kim — the American professor detained by North Korea in late April — was arrested for attempting to commit "hostile acts," the isolated nation announced Wednesday.
It isn't clear what those alleged acts were, but North Korean state media said that Kim — who also goes by Kim Sang Duk — was detained at Pyongyang International Airport April 22 for "hostile criminal acts with an aim to subvert the country."
"Invited to Pyongyang University of Science and Technology to teach accounting as a professor, he was intercepted for committing criminal acts of hostility aimed to overturn the [Democratic People's Republic of Korea] not only in the past but also during his last stay before interception," the state-run KCNA news agency reported.  
Kim is now the third U.S. citizen currently being held in North Korea. 
Otto Warmbier, a 22-year-old student, was sentenced to 15 years of hard labor after being arrested in 2016 for allegedly attempting to steal a propaganda poster, and Kim Dong Chul, a 62-year-old missionary, was sentenced to 10 years of hard labor for a charge of "subversion."
Neither has been seen publicly since their sentencing, Reuters reports. 
Kim's arrest comes amid escalating tensions between the United States and North Korea. Pyongyang has continued to threaten its neighbors and the U.S. with nuclear weapons, and President Donald Trump has said that a "major, major conflict" with the country is possible. 
As Reuters points out, North Korea has previously detained Americans to score meetings with U.S. officials. The U.S. does not currently have an embassy in the country.
Kim, who is in his 50s, was attempting to leave North Korea when he was detained. His wife, who was with him at the time, was allowed to return to the U.S., a spokesperson at the North Korean university where Kim taught, told Reuters.
While some arrested Americans have reportedly faced less harsh treatment from North Korea than its own citizens, the country is known for its gross human rights violations and brutal labor camps. Up to 200,000 people were believed to be imprisoned in the country as of 2012, and human rights groups say that satellite footage suggests the camps have continued to grow.