A "good shutdown" and cutting pre-existing condition coverage would hurt Trump voters most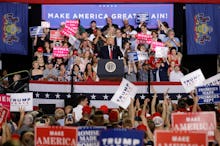 On Tuesday, President Donald Trump called for a "good 'shutdown'" — where else? — on Twitter, describing the closure of the federal government the way your grandfather might wistfully recall the taste of a "good" Coca-Cola with real sugar. Trump also doubled down on Republican efforts to pass a health care bill that would not mandate insurers provide coverage for pre-existing conditions — the one provision of the Affordable Care Act that Republicans have said, for years, would be protected.
Allowing states to decide whether pre-existing conditions should be covered and closing the federal government are not smart political moves for Trump. Why? Because those moves will fall disproportionately hard on the people who put Trump in the White House.
There are 133 million people in the United States with a pre-existing condition. Those people would struggle to find health insurance in the individual market without the ACA, according to a federal analysis of the American health insurance market. About 40 million of those people have cancer, diabetes or heart conditions — like the one Jimmy Kimmel drew attention to in his emotional monologue about his newborn son's heart surgery. Many of those tens of millions of people are insured through the employer, which means they are not likely to lose coverage immediately. Those people on state health care exchanges, however, would be affected right away.
Without the ACA's federal requirement that health insurers cover people who are already sick, states would decide. That takes us back to what was known as the "Wild West" of health care. Dozens of states operated insurance pools for sick people. They had wait lists, high deductibles and had much higher premiums than healthy people. That may be why only 38% of Americans want Republicans to pass this state opt-out provision for pre-existing conditions.
If the ultra-conservatives of the House Freedom Caucus has their way and pass the opt-out provision, then conservative states will be the most likely to seek a federal waiver to allow insurers to offer plans without pre-existing condition coverage. Massachusetts, which voted for Hillary Clinton by nearly 30 points, is not likely to kill its requirement for coverage of pre-existing conditions. But Kentucky's conservative governor or Alabama's Republican legislature, states that supported Trump by nearly 30 points, could pursue allowing insurers to not cover sick people.
On the "good shutdown" front, an array of programs that assist the poor and people in rural America would face challenges if work comes to a halt in Washington, D.C. Assistance for low-income families could be cut. Head Start would not operate and preschoolers would suffer. Meals on Wheels could be forced to stop helping to feed the elderly. Those cuts would hit coal country of southwestern West Virginia hard — an area where Trump consistently won more than 80% of the vote and where one county has the worst health behaviors in the state, with 22% of young people living in poverty.
The takeaway: Trump may be talking tough, but it's not good politics to shut down the government or gut coverage of pre-existing conditions. It would devastate his base.
This is Mic's daily read on Donald Trump's America. Welcome to the political newsletter that thinks you should understand "pre-existing condition" is jargon for "health problem that can kill you." This debate isn't a joke. 
Highlights:
Today: There's actually no such thing as a "good shutdown."
More: What would gutting pre-existing conditions coverage from health care do?
Even more: Trumpcare's last chance may be upon us.
Trump's agenda today: Meeting with Republicans to close the deal on health care. Meeting with Palestinian Authority President Mahmoud Abbas. Dinner with religious leaders.
Last call on health care
We should know by the end of the day whether Republicans can pull off their health care vote. No one thinks the GOP have the votes yet, and House Republican leaders were dealt a stern blow Tuesday when a top moderate Republican turned away from the bill. Trump and House Speaker Paul Ryan (R-Wis.) can only afford 22 defections from their caucus to pass the bill through the House.
To appease moderates, Republicans are considering allocating more funds to state high-risk pools to ensure coverage for people with pre-existing conditions — an approach that had failed before the Affordable Care Act became law. Trump was calling lawmakers on Tuesday night in an attempt to sway them to support the legislation.
If this passes, Trump's apparent ignorance of what's in the bill won't pass muster. This is Trumpcare, championed by the candidate who promised to "repeal and replace Obamacare" hundreds of times on the campaign trail. Trump owns this.
Trump meets Mahmoud Abbas
Trump is diving headfirst into solving the Israeli-Palestinian conflict. Several presidents have failed to resolve the long-simmering dispute. Trump has tasked son-in-law Jared Kushner with bringing both sides to the negotiating table. The Israelis and Palestinians say they are both open to talks, but not until the other side concedes on key conditions. Israeli Prime Minister Benjamin Netanyahu was in Washington, D.C., in February, when Trump changed U.S. policy by saying there did not have to be separate Palestinian and Israeli states. Abbas will certainly pursue the two-state option and could face a tough meeting with Trump, who criticized the Obama administration in December for not vetoing a United Nations resolution that condemned Israeli settlement in Palestine.
Picture this: Trump negotiating with House Republicans while Abbas waits patiently in the other room, and vice versa. The self-proclaimed dealmaker will be put to the test.
News and insight you cannot miss:
•  The long rumored executive order on religious liberty will happen on Thursday. Trump will likely sign an order that would let Americans deny services to LGBTQ people or birth control in the name of religious freedom — though its scope and contours are as yet unknown. The issue has long been championed by Vice President Mike Pence and will deepen opposition to Trump among progressives. (Mic)
•  Melania Trump liked — then unliked — a tweet mocking her marriage. (Mic)
•  Watchdog groups are accusing Trump's inaugural committee of "recklessly evading" donor disclosure requirements. (Mic)
•  Trump and Putin spoke Tuesday. They vowed to end violence in Syria. We'll be watching to see whether that happens. (Mic)
•  A group of more than 50 Democratic lawmakers called on Trump to dismiss his aide Sebastian Gorka, who has been dogged by reports of his affiliation with a far-right European group. (Mic)