'Arkham Insurgency' Reboot: Damian Wayne's potential replacement with Batman affects release date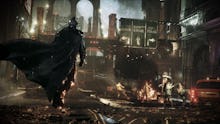 Since the 2015 release of Batman: Arkham Knight, fans have justifiably wanted to know when they would get to return to the dark, rain-slicked streets of Gotham in video game form. Word for a while has been that it'll be called Batman: Arkham Insurgency and it'll come out by the end of this year. There has been speculation you would play as Damian Wayne rather than his dad.
However, according to a tweet from Kotaku's Jason Schreier, some of that might be in jeopardy.
Arkham Insurgency has possibly been rebooted, won't be seen at E3 2017
Schreier's reporting chops are as good as anyone's when it comes to gaming, but as always, take someone's unsourced tweets with a grain of salt.
Based on that information, the game isn't ready to be shown at E3. Some are reporting that it's been rebooted to replace Damian Wayne with Bruce, but Schreier's tweets are noncommittal about that. 
We may not see the next game in the Arkham series this year, but there's still plenty of D.C. Comics media on the way in the near future. Injustice 2 looks promising, and the Justice League and Wonder Woman movies could maybe, hopefully, steer the cinematic universe back on track.
More gaming news, updates, tips and tricks
Check out the latest from Mic, including our deep dive into how female Overwatch players are dealing with online harassment, an article about a fan movement advocating for more same-sex romance options in Mass Effect, a personal essay about JonTron written by a fellow Iranian-American and an article looking at cultural diversity in Overwatch.