'The Defenders' trailer reveals how Netflix's Marvel superheroes join forces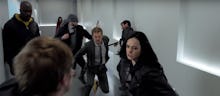 What a day it has been for trailer debuts. First, fans get a look at The Dark Tower. Now, The Defenders follows suit with an epic first trailer that includes an awesome hallway fight scene. But more importantly, we get to see how the Defenders first meet. And the initial pairings are likely what fans would have hoped for. 
It appears that Jessica Jones will meet Matt Murdock, aka Daredevil, for the first time after getting into some legal trouble — it's always nice to have a good lawyer. It also looks like Jessica Jones will be just as sassy as ever, not that any less should have been expected. As for the other Defenders? Iron Fist and Luke Cage's first meeting will be in an alleyway brawl. 
Fans of the comics are likely aware that Iron Fist and Luke Cage have a rich history. And it is certainly fun to see these two meet for the first time. How the four will come together is not entirely certain, but is seems that Murdock's mentor, Stick, will have something to do with it. The trailer also gives us a quick look at Claire Temple, Misty Knight and Sigourney Weaver's villainous Alexandra. 
The Hand will also be well represented and, from the look of things, Elektra will be one of the Defender's adversaries early on, after her resurrection was teased at the end of Daredevil's second season. All in all, after Iron Fist's lukewarm reception, a trailer like this was just what Marvel and Netflix needed. If Iron Fist somehow tempered excitement for the big team-up, this trailer should serve as massive reassurance. 
Check it out for yourself below:
The Defenders will be released August 18 on Netflix. 
Mic has ongoing coverage of The Defenders. Please follow our main The Defenders hub here.