Colgate University mistakes black student carrying a glue gun for an active shooter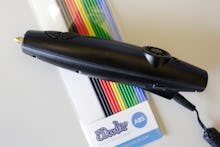 On Monday, Colgate University ordered a lockdown after reports of an "active shooter" on campus, the Root reported. The "active shooter," however, was a black student using a glue gun for a class project.
The lockdown began when a student at the upstate New York college called campus safety to report seeing a black man holding what looked like a gun. Soon after, students at the Coop — a student center — were told to leave the building due to a "dangerous situation."
Like clockwork, social media alerts were sent to students, staff and faculty members at Colgate warning them for an alleged "armed person at the Coop." The alerts also said there were no reports of shots fired and that campus safety is continuing to search the premises. 
After about a four-hour lockdown, university officials released a statement to the Colgate community that campus safety confirmed the "active shooter" suspect was, in fact, a student using a glue gun for a class project. 
"We understand this has been a very upsetting evening on many levels," the statement read. 
On Tuesday, Colgate University President Brian W. Casey issued another statement calling the incident on Monday night a "profound error" that had an "implicit racial bias." Black students only make up about 5.2% of the undergraduate population.
"It is important that we understand the role that implicit racial bias had in the initial reporting of and responses to the events of [Monday] night," Casey said in the statement. "I want to make sure we speak with those who made and received the initial report to understand the role this played."