The "failing" 'New York Times' breaks subscription record despite Trump's criticism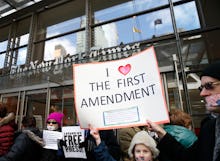 The "failing" New York Times received more new digital subscriptions in the first quarter of 2017 than any other quarter in the paper's history. According to a New York Times Co. official release, the paper added "308,000 net digital-only news subscriptions" in Q1, increasing the company's circulation revenue by 11%.
The paper also saw overall gains taking in $13 million of net income, compared with a $14 million net loss from the same period in the previous year. Unsurprisingly, the Times saw a drop in its print advertising revenue as digital media continues to become more prominent. Digital ads now account for 38% of the company's advertising revenue compared with 30% in the first quarter of last year.
Trump has spent the last year celebrating the challenges faced by print media, frequently referring to the paper of record as the "failing New York Times."
Despite his repeated claims that the paper is "failing" the New York Times Co. stock has soared since the election, indicating that investors think the Trump era will be a boon time for what Trump refers to as the "lying media."
But the president and his allies are not the only ones who have been critical of the New York Times of late. The paper's recent decision to hire climate change doubter Bret Stephens as an opinion columnist has led to a wave of canceled subscriptions by frustrated readers, the effect of which likely won't be knowable until the end of the next fiscal quarter.