'Pokémon Go' Promo Codes: Update will let you redeem coins on Android but not iOS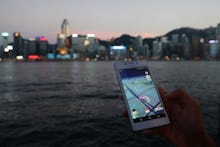 The concept of promo codes as relates to Pokémon Go first debuted in the 0.59.1 APK hack and are still somewhat of a mystery to most players. For a long time, they weren't sure what you would even use these promo codes for. This might not be the case for much longer, however — players are reporting seeing ways to input promo codes appearing in the app. Just don't expect them to show up for a while if you've got an iPhone.
Pokémon Go promo codes to redeem coins confirmed
Early in the morning on May 2, the Silph Road Twitter account revealed that a "promo code" field had appeared briefly in the game's in-app store, then vanished:
Not long after, there was an official post on the Niantic website detailing what these new promo codes would be for. According to the post, they're Android-only, are offered "through partnerships and special events" and can be used to get items from the store that you would normally have to pay for with PokéCoins — such as Lucky Eggs, Lure Modules and PokéBalls.
Pokémon Go promo codes: Why haven't promo codes appeared for iPhone users?
According to a post on the Silph Road subreddit, promo codes are back in-game for Android phone users. If you're wondering why iPhone users are currently unable to access promo codes in their in-game shop, it might have something to do with the way the App Store works.
According to a post by aryelbcn, Apple gets 30% of any transaction that goes through the App Store, even if the transaction occurs offline. User _Nushio_ confirmed that iPhone Ingress users also need to enter "passcodes" (that game's analog to promo codes) into a website in order to use them.
It's not really clear how this would affect these promo codes, since they currently appear to be ways to get free items and don't seem to involve any monetary transactions within the app itself, but there's clearly some negotiations that need to be ironed out before we're likely to see the promo codes appear in iPhone users' Pokémon Go apps.
Let's just hope they get it sorted out before promo codes actually go live.
More Pokémon Go news, updates, tips and tricks
Check out Mic's Pokémon Go guides on how to get stardust, how to determine how long it will take you to reach level 40, the kind of Pokémon you get from 10km eggs, how to create new PokéStops, how to maximize your chances of catching Pokémon and how PokéStops distribute Pokémon eggs. Also check out how to catch Gen 2 baby Pokémon, our analysis of post-balance update Chansey and Rhydon and everything you need to know about finding the long-awaited Pokémon Ditto.