Donald Trump has 83% disapproval rate among young people in the Middle East, poll says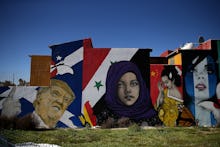 It's no secret President Donald Trump's immigration and national security policies are xenophobic. 
And so, Trump's presidency has struck a chord with a whole generation of people in the Middle East — and not in a good way. In a survey released on Wednesday, Arab millennials said they believe Trump is anti-Muslim and view him more negatively than former President George W. Bush.
ASDA'A Burson-Marsteller — a public relations firm based in Dubai — released results from a survey that said 83% of Arabs between the ages of 18 to 24 in 16 Arab countries viewed Trump unfavorably. Trump's predecessor, Barack Obama, had a disapproval rating of 52%. Bush, who was immensely unpopular for starting two perpetual wars in Afghanistan and Iraq within his first term, had a 77% disapproval rating. (Remember when an Iraqi journalist threw his shoes at the president?)
A majority of young Arabs believe Trump's election has and will shape the entire Middle East in the next five years. About 64% of Arab millennials view Trump's presidency with "concern, anger or fear." Around 70% believe Trump is anti-Muslim and about half of respondents said his attempted travel bans would assist militant groups to recruit young Muslims. The travel bans are executive orders Trump signed in January, and once again in March, that banned foreign nationals from Muslim-majority countries: Iraq, Iran, Libya, Somalia, Sudan, Syria and Yemen. Two federal judges have since blocked Trump's revised immigration order.
Arab millennials believe in the next five years oil prices would be the next factor likely to impact the region, according to Reuters. The Islamic State, which was viewed as the biggest challenge in the Middle East in its 2016 poll, follows after oil prices.